Two Students Currently Studying Abroad Share Their Unique Experiences
Studying abroad is always an exciting, yet somewhat nerve-racking, experience. Throw in a global pandemic that's not yet vanquished, and you've got the makings of a true growth experience. Here, two SNC students share their experiences studying in Europe during the past few months.

Alexus Otradovec '22 / Toledo, Spain
I am studying abroad in Toledo, Spain. Toledo is pronounced toe-LAY-doh, not like Toledo, Ohio. For reference, Toledo is about an hour outside of Madrid, the capital of the country, which is in the center of the country.

My academic schedule at St. Norbert was planned around studying abroad, not the other way around. So COVID-19 definitely put a hitch in my plans, like it did for everyone. However, logistically, I knew at some point during my collegiate career I would be studying abroad. When COVID-19 was still around in spring 2021, I was not necessarily worried, because I was optimistic and hopeful fall 2021 would be a go. Thankfully, it was.

As the time approached for my departure to Spain, I eagerly kept a close eye on the vaccination rates and COVID-19 cases within the country. Luckily, Spain is the fourth-highest ranked vaccinated country in Europe. Nearly 80 percent of the country is fully vaccinated, but it does not stop there. Wherever you are in Spain, you do not see anyone without a mask. Indoors and even outdoors, children, adults and the elderly are all wearing masks. Restaurants are still not allowed to operate at full capacity, either. (Unfortunately, this has definitely hurt Spain's economy, as it relies primarily on tourism.)

COVID-19 also has caused adaptations to some Spanish customs, many of which rely on touch. People traditionally greet and say goodbye to each other with a kiss on each cheek, for example, and during conversation there might be a slight tap on the arm. Now they do the elbow bump.

Most recently, my friends and I traveled to Italy. We had our vaccination cards in our hands at the airport, ready to flash them at any moment. However, that moment never came. Maybe it was because most of the population in Europe is vaccinated, and they just assumed we were European and vaccinated. Or maybe it was because we were traveling within the European Union. Whatever the reason, we were quite surprised, then, when an employee came up to us in a McDonald's, where we waiting to catch our bus to the next city, and asked to see our "green cards," which are Europe's vaccination card.

The pandemic has affected the life of every person. However, the light is at the end of the tunnel in Spain, with all of the precautions being taken here. They are close to coming out of the tunnel.

Lexie Habeck '22 / Dublin, Ireland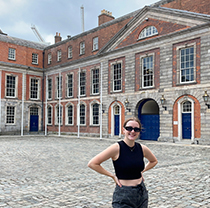 This semester, I am taking classes at Dublin Business School to fulfill requirements for my business administration/marketing degree at SNC. Additionally, I am completing a marketing internship this semester at a small public relations academy in Dublin.

COVID-19 has impacted my study-abroad experience in various ways. Originally, I was planning to study abroad during the spring 2021 semester. Unfortunately, I was not able to go due to the state of the pandemic. When the vaccine began to be distributed, I was hopeful that in fall I would be able to go abroad. I am grateful that both SNC and my program were able to make this happen for the fall semester. As a senior, this would have been my last chance to study abroad, and I am so excited to finally be doing so!

Countries throughout Europe each have their own restrictions and guidelines regarding the COVID-19 pandemic. Ireland has continued to be one of the more restricted countries in Europe, especially in Dublin, where people are more concentrated in the city. Masks are required in all indoor spaces, including public transportation. Thankfully, classes are in-person and resumed as normal. Also, we are required to wear masks in the classroom (same as SNC). Other than that, classes have progressed as normal, which is a relief.

One thing that surprised me are the restrictions at restaurants and pubs. To sit down in any place, you must show proof of vaccination. Even fast-food restaurants like McDonald's require this! It was something to get used to, considering the U.S. never had anything like this. Also, pubs had to close at 11:30 p.m., and nightclubs continued to be closed. These restrictions were lifted on Oct. 22. However, Oct. 22 was supposed to be the day Ireland fully lifted all restrictions, but Ireland's government has decided to hold off until next spring. So pubs and nightclubs are the only two establishments where restrictions were lifted. Luckily, most tourist destinations and points of interest in the city are open to the public. Because of this, I have been able to do everything I've wanted so far,

Traveling abroad during a global pandemic has its challenges, but it's all been worth it. I wouldn't trade this experience for anything, and I am excited for the rest of the semester!

Nov. 22, 2021