Treasure/The Navajo Vase
I love the Southwest and I'm very attracted to the timelessness of the landscape. Even contemporary Navajo imagery is deeply connected to the past. When I look at this vase, I feel that myself. You can see the landscape in it. I think it's beautiful. 

This late 20th-century ceramic pot is the creation of the Navajo potter Lorraine Williams. It is part of a small collection given to the college by the late Rev. Richard Ver Bust, who taught religious studies at St. Norbert 1970-98. It's a little collection, but really quite exquisite.

The gradation of value in the sienna and umber colors on the pot add to its beauty and reflect the influence of land and tradition on the artist. Carefully incised lines and geometric shapes create surface interest on the piece. Ms. Williams' process typically includes wood-firing each piece in an outside pit and sealing the pot with a hot pine, piñon pitch.  

The square shape of the head on the figures of this pot indicates that these are depictions of female Yeii. These are the Navajo spirit people. The imagery on Ms. Williams' pottery is rooted in the tradition of Navajo sand painting; sand paintings are created as part of a healing ceremony and intentionally impermanent. When Navajo artists began using similar imagery on permanent objects, such as weavings and pottery, intentional flaws or incomplete areas became important elements of the design. The Yeii are purposefully left unfinished so that the spirit can depart the object.

When I'm standing in the desert, in the Southwest landscape, there are times when I feel I could be anywhere in time. You can see the working of time on the landscape, in the geological strata of the Grand Canyon, in the cacti that are old and weather-beaten but continue to stand. Perhaps, too, it's the relics of the past that draw me – things like the Anasazi ruins, hieroglyphics discovered on a rock … .

The inherent beauty of this vase, coupled with my own interest in Navajo culture and love of the Southwestern landscape, draw me to this object in our collection. It is often in this place – where artist's story meets viewer's story – that art resonates most powerfully.
---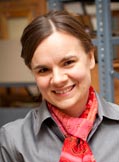 For this first in our series in which we ask members of the St. Norbert community to talk about the objects they treasure and the meaning they carry, it seemed fitting to invite Shan Bryan-Hanson to be our contributor. Curator of art galleries, Bryan-Hanson is also charged with the care and displaying of the works of art in the college collection. The mystery and elegance of nature is the primary source of inspiration for her own painting.



March 27, 2013