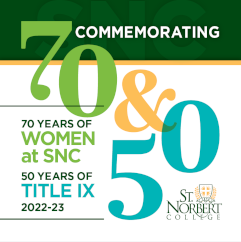 Check out the various events that took place throughout the 2022 - 2023 academic year as St. Norbert College proudly recognized two noteworthy anniversaries.

First, we celebrated the 50th anniversary of Title IX, a federal law, which went into effect in 1972. This law states that "No person in the United States shall, on the basis of sex, be excluded from participation in, be denied the benefits of, or be subjected to discrimination under any education program or activity receiving federal financial assistance," giving women access to athletic and educational opportunities that were not previously available. SNC is proud to celebrate this anniversary, as well as the progress surrounding sex and gender equity that has been made on our campus.

This year also marked the 70th anniversary of women being admitted to St. Norbert College as degree-seeking students. These initial trailblazing women helped transform a school that had been men-only since its founding in 1898. We celebrated these pioneers who forged a new path upon which many more would follow. Today, women make up 59 percent of the student body.