An Old St. Joe's Farewell for President Emeritus Thomas Manion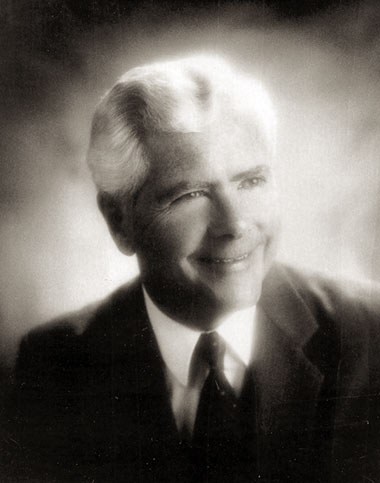 The fifth president of St. Norbert College was honored Friday at a funeral Mass that brought him home to campus once more. He was laid to rest after an Old St. Joe's service attended by former colleagues and students alongside friends and family. 
President Emeritus Thomas Manion, who brought national recognition to the college with the expansion of both facilities and academic programs, died June 26, 2018, at the age of 83.
A force for growth
During Manion's presidency, St. Norbert College saw an expansion in enrollment and academic programs that was reflected in the rigor of its educational offerings, the updating and expansion of campus facilities, the focus on international education, the success of its athletics programs and the institution's outreach to the business community. Both Manion and his wife, Maureen – a member of the college's political science faculty 1983-2012 – devoted themselves unselfishly to the betterment of the institution and to improving the college's profile and reputation.
Manion was formally inaugurated as fifth president on Founder's Day, Oct. 21, 1983. His view of the college's destiny was unwavering through his 17-year tenure: "The college's vision is to be a first-ranked, quality institution – the best Catholic college in the Midwest," he said. Intent on leading the college further in that direction, he presided over the establishment of the Honors Program; the office of faculty development; new majors in computer information systems, computer science, international studies, environmental science, environmental policy and geology; and the college's first master's programs (in theological studies and in adaptive education). 

These and many many other accomplishments were included in the citation that accompanied the conferral of Manion's honorary degree from the college in 2000. It was noted, too, that, during his presidency:
• St. Norbert had consistently ranked among the top 10 four-year Catholic liberal arts colleges in the U.S. News & World Report rankings for the past 12 years.
• The student body had grown from 1,650 students to 2,014.
• The endowment had grown from $9.6 million to $44.6 million
• The campus population became increasingly diversified (helping to meet a need for global awareness that Manion repeatedly emphasized during his presidency).
Board chair Thomas Olejniczak spoke for the board of trustees at that time when he wrote: "Dr. Manion has always led by example ... . He upholds the Norbertine heritage by declaring that his primary objective is to help people become better human beings. He believes that St. Norbert College graduates will be agents of change to bring about a better society."
By successfully piloting a $100 million capital campaign, Manion effected a permanent facelift for St. Norbert College, with many of the buildings of today's campus standing as testament.
A career dedicated to higher education
Prior to Manion's 17-year tenure as president of St. Norbert, he served as president of the College of Saint Rose in Albany, N.Y., (1973-83) and as provost, academic vice president and dean of the graduate school; and as chair of the economics department at Bryant College in Smithfield, R.I., (1960-73). Manion earned his BBA from St. Bonaventure University, his MBA in management and finance from Boston College and his Ph.D. in economics from Clark University.
Manion retired as St. Norbert president in 2000.
Manion is survived by his wife, Maureen, a beloved and well-respected member of the SNC faculty. The Manion family includes seven children, four of whom graduated from SNC: Gregory, Marcy O'Malley (Michael O'Malley, both formerly of International Education), Andrew '87 (Amy Schlumpf '87); Margaret Close '87, Christine Manion Reiss '88, Victoria and Thomas III '98 (Jennifer Pishko '99). Grandchildren of the former president include Mary Close '15 and Michael O'Malley '19.

During his tenure, Tom Manion was involved with educational issues at the local, regional and national levels. He served as chair of both the Wisconsin Association of Independent Colleges & Universities board, and that of the Midwest Region of the International Association of University Presidents. He served on the board of directors of the American Council on Education and the Association of Catholic Colleges & Universities. Manion was also involved in the community, serving on the boards of the Green Bay Packers and Associated Bank.   

Even in retirement, Tom Manion was active and engaged at the college. He was an excellent goodwill ambassador and never missed an opportunity to share positive news about the institution with those he met.  
President Brian Bruess '90 says: "One of the true joys of my first year as president was reconnecting with Dr. Manion. Carol and I refer to him as 'our president' as he served while we were students. Tom was a treasure to Catholic higher education, he helped transform St. Norbert College, and he remained a faithful champion of the college. He and Maureen warmly welcomed Carol and me and both were generous in sharing their wisdom. Tom will be missed."

June 26, 2018