Noted Author and Scholar Visits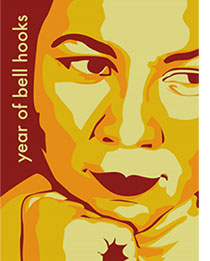 The new Cassandra Voss Center at St. Norbert is celebrating a canonical figure in gender studies in America with a full year of programming dedicated to her work.
Noted author and cultural critic bell hooks will be on campus April 15-17 as the culmination of a two-semester
calendar of events
designed to explore the themes of hooks' work. 
Honored as a leading public intellectual by The Atlantic Monthly, hooks is the author of more than 35 books. In fact, 2014 is not just the "year of bell hooks" at St. Norbert College - it's a year that, late in her career, sees the revered scholar's public profile in the ascendant. Last November hooks, a member of the faculty at Berea College, served as scholar-in-residence at the New School and in November 2014 she will present the keynote address at the National Women's Studies Association conference in Puerto Rico. 
The "year of bell hooks" programming sets the tone for the
Cassandra Voss Center
, which was conceived as the locus for sustained conversation on issues of identity and gender, rooted in scholarship. 
Within its first-year themed calendar, the center has already seen a panel discussion on men, masculinity and love presented by
Billy Korinko '09
(founding director of the Men's Initiative at St. Norbert and current lecturer in gender and women's studies at the University of Kentucky), plus a discussion of "The Jackie Robinson Story."
Still to come:
Feb 21, noon and 3 p.m.
"Trans* 101" presented by Helen Boyd, author of "My Husband Betty" and "She's Not the Man I Married." Boyd teaches gender studies at Lawrence University.
March 13, time TBA
"Writing Beyond Race," a book discussion led by Billy Korinko.
March 26, 6:30 p.m.
"Prof, PJs & Prez," a reading of hooks' children's books by
President Thomas Kunkel
and others.
April 1-2
A Killeen Chair and Cassandra Voss Center lecture presented by George Yancy, professor of philosophy at McAnulty College Graduate School of Liberal Arts at Duquesne University. Yancy's talk will consider race, whiteness and philosophy as they apply to primarily white colleges. The following day Yancy will host a luncheon discussion surrounding the work of bell hooks, particularly her concern with inclusion and pedagogy regarding racial awareness in the classroom.
April 15-17
bell hooks at St. Norbert College. Hooks will lecture, present a Sacred Hour offering and give a reading from her children's books. All three
events
are open to the public.
Feb. 4, 2014