Treasure/Carved by Hands Unknown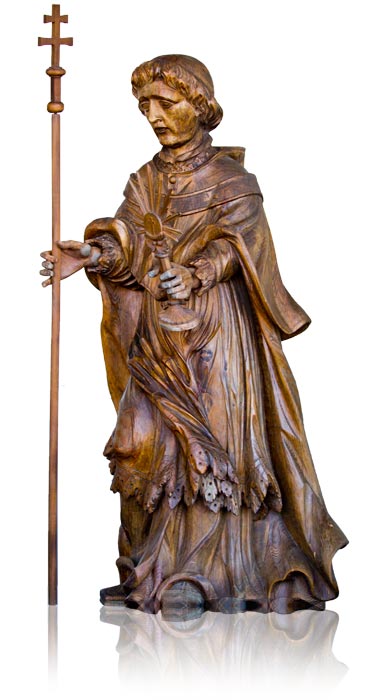 Every issue, we invite one member of the college community to share their delight in an object found on campus. Here, William Hypand, director for the Center of Norbertine Studies, speaks to a wooden statue of St. Norbert in the new library. It reminds him of the Norbertine heritage and provides a vision of the past and the potential of the future.
There is a power in wood that has always attracted me. Whether in the solidity of a door or the polished elegance of an ancient choir stall or pew, beautiful wood has always drawn me into its rich embrace. 
I first saw this wooden statue of Norbert – carved more than 200 years ago and based on a still-extant 17th-century original in a German abbey choir stall – in the then Todd Wehr Library. It sat there, perched somewhat forlornly out of place near the reference area, hardly noticed by the busy passersby. I always thought it beautiful. When the nascent Center for Norbertine Studies was given a space on the second floor of the library, I requested that the statue be moved there. 
As plans were realized for a large and lovely space for the center in the new library, I knew that this statue would finally have the dwelling place it so richly deserved. Former college curator Donald Taylor cleaned, polished and repaired the more fragile parts. Facilities staff offered creative help, too, so that the wooden statue of our patron saint now stands protected but highly visible in the center's reading room. There, Norbert greets every visitor with calm gaze. Beams of sunlight illuminate the gentle nuances of the wood, the monstrance and archbishop's cross held aloft by delicate hands. In the saint's wonderfully expressive countenance, we grasp the sadness that his work as a peacemaker is never done; in the Eucharist and cross he holds, we understand his belief about the source of true and lasting peace.

I never have been able to find out the name of the person who carved this statue, but I am grateful to him or her, and the others who have lovingly cared for it and passed it down to be enjoyed by generations present and still to come, in this lovely place. Like the Norbertine heritage itself, born and cultivated in Europe and transplanted to this fertile land, the statue provides continuity with the past and vision, looking to the future.


---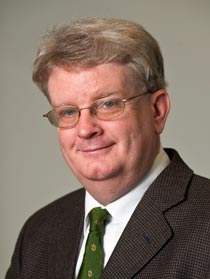 As William Hyland, founding director of the college's Center for Norbertine Studies, departs St. Norbert to teach church history at Scotland's University of St. Andrews, he says he will cherish his memories of his wonderful friends and colleagues in De Pere. He takes with him lessons gleaned from the college's patron saint – peace,
communio
and the mysteries of faith.


July 2, 2013