Cousins' Student Work Experiences Build Careers

When Scott Zegers '03 peers out his 27th floor Park Avenue office in Manhattan, the view includes two of New York City's tallest structures, the Empire State Building and the Chrysler Building. The current workspace for his cousin Dan Zegers '11 may not be a match architecturally – Missouri Western State University in St. Joseph, Mo., home of the Kansas City Chiefs' training camp – but it suits Dan just fine.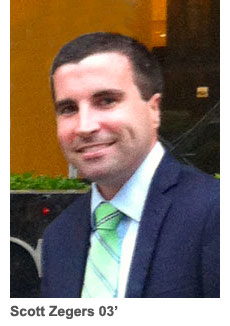 Although they work in different fields, Scott and Dan took similar steps to achieve their current professional success. Both gained valuable work experience off-campus during their four years at St. Norbert. Scott, who majored in business administration and economics, worked 20 to 30 hours per week in the financial services industry, at Smith Barney's Green Bay office.

"I did general administration and really became part of the team," said Scott. "I looked over people's investment portfolios and was able to put a face and name behind the client. I was fortunate to be able to connect with some of the clients on a very personal level. "

His hard work paid off. In 2004, a year after graduation, Scott joined Calamos Investments in Naperville, Ill., where he worked in growth equity and convertible income. His passion for financial services grew at Calamos, and he set his sights on landing in the financial center of the world: New York City. In 2007, a mere three years later, Scott accepted a position in strategic planning as it relates to personal finance at New York powerhouse J.P. Morgan. Two years later, he was named a vice president. His current responsibilities include national-level finance and strategic work related to banking.

Scott, a De Pere native, said his career was strongly influenced by two of his economics professors in particular: Kevin Quinn and Mark von der Ruhr. The ability to easily partner on projects with professors and his fellow students was also beneficial.

Dan, meanwhile, is in his first year as a player personnel assistant for the Chiefs. The position grew out of his work experience while attending St. Norbert. Dan, also a De Pere native, earned a degree in business administration. He first began working with the equipment staff of the Green Bay Packers at age 14, continuing in that role during college. It was during his college years that he built a relationship with John Dorsey, who was employed in player personnel. Soon Dorsey invited Dan to work with the college scouting department during the Packers' off-season.

"I did a lot of behind-the-scenes work," Dan said. "I would prepare player files, enter stats and data. I supported the scouting staff and helped with the preparation for the draft. I was lucky to have that opportunity."

Dan worked for the Packers from 2004 to 2012, then followed Dorsey to Kansas City when Dorsey was tapped to be the Chiefs' new general manager. He reports to Dorsey, and will be working with personnel issues and advance scouting for the professional players.

Still a newbie at his job with the Chiefs, Dan is adjusting to his new surroundings. "The red is different," he said of his new team's colors, "but I'm excited about it."

Dan says one of his main takeaways from St. Norbert was being open to future opportunities. "I'm always keeping my doors open," he said. "Six years ago I was working in equipment, and now I'm in player personnel. The more you learn, the more things you can do in life."

Scott and Dan aren't the only Zegers to attend St. Norbert. Scott's father is an SNC grad – John '74, now superintendent of the West De Pere School District – as is John's brother Joe '83. Scott and Dan's cousin, Emily '14 (Joe's daughter), is currently on campus and another cousin is Jenny Hilke '12.
"We are very fortunate to have a liberal arts college the quality of St. Norbert, and have been blessed to have quite a few grads (from the family)," said John. "It's great to be a part of it."


Aug. 6, 2013