2014 Alumni Award Winners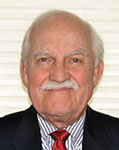 Dr. Dennis W. Engels '64
In his profession, in his military service, in his community work and in his family life, Dennis Engels has shown himself to be dedicated to the very highest ideals. As a nominator wrote, he "lives an admired life daily with love and significance."
Dennis distinguished himself throughout his nearly 40 years as an educator at UW-Madison and the University of North Texas, retiring from UNT as a Regents Professor Emeritus, one of only two professors so recognized in the 60-year history of the renowned counseling education program there. Thousands of graduate students passed through his classrooms, and he was given the Doctoral Mentor Award by UNT's Doctoral Student Association, among many other honors. 
Dennis is also widely considered among the most respected scholars and leaders in the counseling profession. He has more than one hundred published works, and has assumed leadership roles in national and state professional organizations and learned societies, notably the Association for Spiritual, Ethical and Religious Values in Counseling, and the Council for Accreditation of Counseling and Related Educational Programs. He is a Fellow of the American Counseling Association and the National Career Development Association.
Dennis' career accomplishments, too numerous to mention here (a nominator notes that his vitae runs to 61 pages!), are all the more remarkable given his extraordinary contributions outside academia. 
In the realm of public policy, Dennis was instrumental in changing and implementing student financial aid law, and establishing funding for Wisconsin Career Information System, helping youth and adults explore and plan meaningful careers; helping Texas become one of the first states in the country to professionally license counselors; and representing the U.S. for more than a decade in international symposia on career development.
In service to his country, Dennis attained the rank of colonel in the Army Reserve, commanding combat and strategic intelligence units focused on energy resources and security in support of the Defense Intelligence Agency; his units played important roles in Operation Desert Shield and other worldwide initiatives.
He was a 25-year volunteer in his school district of Denton, Texas; an assistant scoutmaster; chair of his parish stewardship committee; and guiding hand behind a premarital sponsor program for engaged couples. At home, he and his wife, Donna, raised three sons, each highly accomplished in medicine, dentistry and law, respectively. And with still more love to give, this remarkable (and apparently tireless) couple also served as foster parents ... twenty-two times.
For his service to his family, his students, his profession and his country, and for the values he has demonstrated in all aspects of his life, Dennis Engels is richly deserving of the 2014 Alma Mater Award.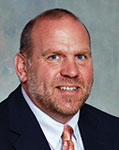 John Koker '84
"The Math Whisperer," one admiring colleague dubbed John Koker. Before taking his current position as dean of the College of Letters and Science at the University of Wisconsin Oshkosh, John was one of the most honored mathematics educators in the state.

His colleague's colorful nickname highlights Dr. Koker's unique ability to inspire and motivate his students, and to make the challenges of mathematics something to be relished, not dreaded.

He would lead his students through carefully constructed exercises to help them grow comfortable with the problem-solving process – challenging, questioning and encouraging them along the way. As one colleague noted: "John socratically gifts students with the power of their own minds – a very empowering gift."

It is a teaching approach that earned John the UW Oshkosh Distinguished Teaching Award, the UW Oshkosh Rosebush Professorship for excellence in teaching and research, and the UW System Board of Regents Teaching Excellence Award, given to only two educators in the entire UW system each year.

One former student (and current math teacher) said of his mentor: "John led me through an incredible adventure of becoming an independent, investigative and critical thinker. … The entire experience of John's classes gave me a lasting knowledge and life skills on how to attack unfamiliar situations."

The excellence that distinguished John in the classroom has been equally on display in his leadership roles. As chair of UW Oshkosh's mathematics department, he spearheaded a major curricular overhaul of the general education mathematics requirement; as dean of the College of Letters and Science, he has been instrumental in the complete redevelopment and implementation of the university's general education program, doing work his provost describes as "stellar." He has served with distinction as both chair and governor of the Wisconsin Section of the Mathematics Association of America.

Though removed from day-to-day teaching, John continues to share his pedagogical gifts with others. He has generously conducted workshops for middle and high school teachers both in public and tribal schools, and each year he enthusiastically participates in the Pi Mu Epsilon math conference here at his alma mater.

For his deep commitment to the growth and development of the students and institutions he serves, we are pleased to honor John Koker with the Alumni Award for Distinguished Achievement in Education.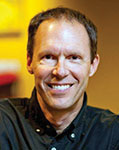 Kevin DeCleene '12 M.T.S.
Perusing the list of Diocesan committees on which Kevin De Cleene has served, the causes to which he has lent his support, and the good works he has performed, one is moved to think that yes, it is an impressive list of accomplishments – for four or five people. That a single individual has been able to give so much of himself is remarkable.

Kevin's ordination as deacon in 2008 was the extension of a longtime commitment to faithful service, and has enabled him to continue to enrich the personal and spiritual lives of those around him. Now privileged to preach homilies, baptize babies and officiate the right of marriage outside Mass, Kevin also makes his mark in innumerable other ways among the faith community.

He is chaplain for the Knights of Columbus; a leader of prayer services; a minister to those in nursing homes; a fixture on community service and outreach committees.

Kevin is a Confirmation teacher; sponsor of a Guatemalan child; harvest donor to Paul's Pantry; Habitat for Humanity volunteer; board member of the Ecumenical Partnership for Housing. He has met the poor and vulnerable through Street Lights Ministry; he has been a mentor to teens, a minister to the elderly, and a counselor to families and individuals in crisis.

What he does not do through his church and the Diocese, Kevin often does alone. Stories abound of him quietly helping the indigent and the homeless, offering friendship and companionship to physically and mentally challenged members of the community, counseling and consoling friends and coworkers.

To put it simply, Kevin DeCleene spends much of his life being there for others.

To that he adds the estimable credential of being a lifelong learner. In the midst of a long and successful career with Schneider National, and at a time in midlife when many are content to know what they know and learn nothing more, Kevin achieved a bachelor's degree from Silver Lake College, then completed five years of Deaconate studies and formation leading to Ordination, then earned a Master of Theological Studies degree from St. Norbert.

For his lifelong commitment to grow in faith, in knowledge and in good works, Kevin DeCleene is justly recognized with the Alumni Award for Distinguished Achievement in Public Service.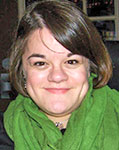 Stephanie Birmingham '09
When we consider the profound need and want that surrounds us in the world, we often feel overwhelmed. Faced with challenges so great, we despair of our ability to make a difference, and we quail at the potential cost to our own comfort. Many of us simply throw up our hands.

But some of us instead roll up our sleeves; Stephanie Birmingham is one of those.

Stephanie's activism and dynamism were on ample display during her St. Norbert years. As an undergraduate, she engaged deeply in social justice work, volunteering three times for the college's TRIPS alternative break program – first as a participant, then as a co-leader, serving in domestic violence centers, homeless shelters and soup kitchens.

Stephanie volunteered at a Green Bay homeless shelter, interned for the Leadership Conference on Civil Rights, and lobbied on behalf of Friends for Wheels, an organization she co-founded to raise disability awareness in the college community. Academically, she earned a place both on the Dean's List and in the Pi Gamma Mu Honor Society. She received the college's Student Life Award, as well.

Today, she continues her studies, pursuing a Master of Arts in Pastoral Counseling at Loyola of Chicago. And outside the classroom, Stephanie continues to distinguish herself through her compassionate service to those most in need.

Before moving to Chicago, she spent nearly two years as a Norbertine Volunteer Community member and full-time chaplain's assistant at Brown County Jail. Reflecting on that pastoral work, one admiring colleague said, "Stephanie is attuned to the dreams and needs of those on the margins, and does whatever she can to empower people to achieve those dreams and to fulfill those needs." Now, as she pursues her master's, Stephanie does much of her practicum work on the streets of Chicago, and in the city's shelters and hospitals.

Stephanie once wrote of her experiences: "I have realized what it truly means to be present to another human being and what it means to listen with an open heart and mind … remembering that we are all yearning for acceptance, compassion, someone to hear our small yet important voice."

Her abundant compassion and tireless service have earned Stephanie the college's Young Alumni Award for 2014.