Treasure/Windows to the Past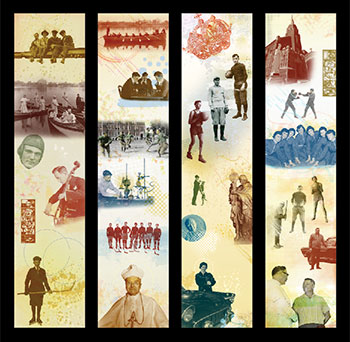 Each issue we ask a member of our community to speak about one of the objects that we treasure, individually or as a community. This time around, we invited Brian Pirman (Art) to tell us about the windows he designed for the new Dale's Sports Lounge in Michels Commons, and the invitation from the Rev. Jim. Neilson, O.Praem., '88 that began the process of creating them.
Jim Neilson was looking at some collages that I was creating. He really liked them, and he knew that they were looking to decorate the interior windows in Dale's, and so he recommended me.
One of the greatest things about the project was going through the college archives. That was really fascinating. I think we should thank Don Pieters, the late college archivist, for what he brought to the table as far as saving and collating all these awesome old images. It really made me appreciate the rich history that, the college has.
I would immerse myself for hours at a time and, in doing that I just saw a lot of images in assorted contexts. My dad, Frank Pirman '52, was on the 1952 football team, so I came across old photos of him when he was in his early 20s, which was a riot.
Knowing that these were old black-and-white photos that I was going to colorize, I had vintage on the brain, therefore I tried to pick a palette that gave a certain sense of the antiquated.
A lot of times people look at the final product. But the process can be just as intriguing and exciting as what it is that you create.

Brian Pirman (Art) joined the St. Norbert faculty in 1997. A graphic designer by training, he strives to create work that is both engaging and provoking. He is currently experimenting with digital photography and electronic image manipulation, focusing on color, form, texture and pattern. He draws his inspiration from fine art, film, nature and popular culture.

Nov. 13, 2014