Assist, Protect, Defend
Leadership in the Military Police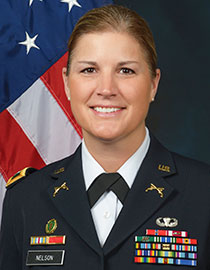 Col. Erica Nelson '90 is the highest-ranking woman of all the military alumni of St. Norbert College, but in student days her path to command was not yet clear. All the same, there is no question in her mind as to when the seeds of leadership were first sown.

Nelson, who now commands the 15th Military Police Brigade, also serves as commandant of the Department of Defense's only maximum-security prison. She says her leadership style was certainly inspired by her parents: 

"I come from a family of eight children, a Catholic family. My parents were extremely strong in their character, discipline, selfless service and work ethic. My dad was a business owner. He had a partnership with my uncle – they owned a Radio Shack store. I remember Christmases where, you know, we would get up and be ready to open presents and my dad would get called to go out on a service call to fix someone's TV. So we would have to wait till he got back home before we opened presents. 

"At the time we probably weren't really happy about it, but it really instilled a very strong work ethic in me, a duty-before-self type of thing. I think that helped me a lot with my leadership style, because it translates well into military leadership. In so many cases duty has to come before self. The army – the military in general, I should say – wants leaders who have that commitment. 

"General Odierno, the army chief of staff, uses three key words: character, commitment and competence. That's really what the military is all about. A lot of times we can't serve our own needs but we have to serve the needs of others. I just saw that in my parents, growing up. I realized as I grew older what they were doing and what they were all about, and I carried it with me into the military."

Nelson now has charge of some 1,200 soldiers as well as close to 700 inmates in the two correction facilities she oversees. But as a young soldier in the army reserves she was initially more concerned with serving her country and paying for college than she was in officer training. "I believe it was my sophomore year when the ROTC department at St. Norbert found out I was in the reserves, so they started to talk to me about joining the ROTC program. At the time I just really had no interest in becoming an officer, but as time went on I started to get more interested. I joined the ROTC program my junior year at St. Norbert, so I became a full-time cadet at that point."

When it came time to request commissioning into a particular branch, military intelligence and military police were Nelson's top choices. "I was pretty happy to get military police. I would've been happy with either one, but I've had a very awesome career as a military police officer, so I never looked back." 

Colonel of truth
As a leader with considerable responsibility, she is committed to inspiring others through example: "I believe actions do speak louder than words. Words are very important, but if your actions don't fit, soldiers will see right through that. I've had that experience myself with leaders who say one thing and do the other, and I never wanted to be that way. I wanted to be a leader who set the example by word and deed. I think that just goes with being an authentic person.

"That doesn't mean that I have to do everything that my soldiers do. But I have to show them that I care, and that I'm willing to support them in their particular job. I like to get out and talk to soldiers and to make myself available for their particular needs. There always has to be a certain amount of separation, obviously, between soldiers and commanders. You don't want a relationship to get too casual or too friendly. But at the same time you have to be approachable. That's when soldiers know that that you have their back."

Nelson was heavily involved in the music program at St. Norbert and graduated with a degree in music administration. But, she says, she always had an appreciation for law enforcement: "I guess I appreciate discipline, so MP seemed like a good fit for me. It's kind of interesting, because a lot of military police officers have a criminal justice background and I never studied that."

Military police undertake law enforcement on army posts, Nelson explains. The criminal investigation division investigates felonies. She herself serves on the corrections side, and has charge of the maximum-security prison at Fort Leavenworth, the historic army base in Kansas.

"In this prison here, we confine troops from the army, navy, air force, marines and coastguard. Any time there's a serious offense and a soldier is found guilty through a court-martial, and their sentence is 10 years up to death sentence, they come to this facility."

Nelson also has charge of a medium-security facility on the base.

A fighting chance
Nelson continues: "The military gets such a diverse group of people and, as a leader, the challenge is to take this diversity and make one team out of it – to really use our backgrounds to better an organization rather than to, potentially, tear it apart, if somebody brings in some bad issues.
"It's the ones who struggle with resiliency that don't know how to overcome some of those challenges. Those are the ones that end up in trouble and the ones that require a lot of attention from leaders – first of all to try to get them to perform how we want them to perform in the military and then, if they don't, to hold them accountable for what they did. The end result, unfortunately for some, is confinement.

"You know, a lot of people who have come into the military have reformed themselves and found their niche in life, as far as serving their country, making themselves better. So they've been able to leave behind a lot of their troubled past. It goes back to you know really being in tune with our soldiers when they first come to our organization. We get a lot of young soldiers in who have not experienced anything outside of, maybe, small-town America or inner-city America."

Nelson sees the value in a process where mistakes are made but reconciliation is inbuilt. She sees success stories where soldiers who have been held accountable learn from their mistakes, and move on to become very good leaders. They don't have to repeat their mistakes and, as leaders, they know how to handle those of others.

"In the military, it's so important to have good order and discipline within our organization. Soldiers are going to make mistakes and, as a leader, you have to hold people accountable for those mistakes. It's always hard when you have to instill that discipline. You know it's necessary, but you're making decisions that are affecting people's careers, affecting families. Making those tough decisions has always been the kind of thing I lose sleep over. Even though you know it's the right decision in disciplining the soldier, it's never easy because you know it's having an impact on them and probably upon their family as well.

"What I always talk about to my commanders is, when you have to make those tough decisions, make sure you're basing them off of as many facts you can. Make sure you understand the soldier's situation, maybe what led up to the mistake. Can they recover from that mistake and continue to serve our country well? In most cases, that is the case. We all sometimes need a wake-up call. We continue on to learn from our mistakes and move on."

This we'll defend
Nelson loves telling the army story and believes it's an important experience to share. Even though the military is often in the news, less than 1 percent of the population has seen active military duty:

"It's getting less frequent that people know someone who's serving or has a family member in the military. It's a lot more than just wearing the uniform or wearing the rank of colonel. It's really a way of life that got embedded in me early in my career. The longer I served, the deeper my respect and my love of this country grew.

"One of my first deployments was to Haiti, back in 1994 when we went in to restore the democracy there. I saw how another country lived, I saw the treatment of their people, I saw how other governments did not function. And it just made me have much more respect for our own country. I wanted to continue to serve and, you know, the hope is that everybody some day can live in a peaceful situation.

"Although our country isn't perfect, I've been a lot of places that are really struggling. Despite our imperfections, I think we're in a lot better shape than many other countries. It's just an honor for me to be a part of representing this country and trying to help out across the globe as we can, implementing our values and hopefully showing what right looks like. Defending our nation and our values is very important to me."

Nelson explains that, when military police deploy, they are considered combat support, securing routes for other troops. The basics of leadership stay the same, but the complexity of the situation escalates:

"In a deployed situation, we're dealing with strategic-level situations as opposed to either the tactical- or operational-level situations back on the home front. If my soldier makes a mistake [at Fort Leavenworth], it's probably not going to make national or international news. In a deployed environment, if my soldier abuses a detainee or makes a mistake, you know it's going to hit CNN in almost no time and it's going to be a very bad day for everybody. We're representing our nation, so there's a little more at stake.

"We're dealing with different cultures, different religions, different languages … . It just puts a lot more stress on the soldier, to take those things into consideration in their daily duties, to really do the right thing."

Nelson tells her soldiers that a mistake at the smallest level can have strategic impact. Being a leader in a deployed environment, she believes, is about being really engaged with what is going on with one's soldiers – in the mission and in their personal lives. By keeping a finger on the pulse, those in command can fend off many potential problems.

"We did the last detainee operations mission to Iraq in 2011, so we had a lot of high-profile detainees and I have to say, my soldiers were very professional. We focused a lot on dignity and respect. You know, it doesn't really matter what a person did to get themselves there, it's our job to make sure that they are treated with dignity and respect while they are in our care. The same goes here at the maximum security prison."

Overseas, commanders are dealing with soldiers who are separated from their families. When troops are stressed about what's going on back home, officers have to keep them focused on the mission at hand. The military has worked hard over the years to improve the support it offers, Nelson says. Strong family readiness groups back in the States mean that, when a unit does deploy, there is support for those left at home. If soldiers know that spouses and families are taken care of, then they are going to have peace of mind and can focus on the duties at hand.

Better than a medal
When Nelson returned from her last tour in Iraq, she remembers, a reporter asked her, "Is coming back better than winning the Super Bowl?"

Nelson says, "What's better than winning the Super Bowl, better than getting a medal, is just having the trust of our nation to lead soldiers.
"In the military, we don't punch a time clock. My day doesn't end at five o'clock at night. I can expect a call anytime throughout the day, anytime when I'm on leave. It's a responsibility that gives me the satisfaction of knowing that any small part I can play can have a positive impact on my soldiers, on my organization, on the military as a whole.

"I've had three different opportunities in my career to command soldiers, as a company commander, a battalion commander and now a brigade commander. I just think there's no greater honor or responsibility than leading America's sons and daughters, whether here on the home front or in a deployed environment. 

"When I came back from Iraq as a battalion commander, we had a successful mission and I was able to bring everybody home. Nothing could have beat my feeling that day. I imagine that's better than winning the Super Bowl! Just seeing the looks on the families' faces – there's nothing better than that. Seeing the parents waiting for their son or daughter or the husband their wife, or the baby that the soldier hasn't even seen yet … those are some pretty powerful images that'll never leave my mind." 

When Nelson took command at the battalion level back in 2009, she remembers, a colonel she knew in the military police who had attended the ceremony came up to her afterward. 

"He shook my hand and I thought he was going to say something like, oh,  'Enjoy command,' or 'Have fun,' or something like that. But he said 'Make every day count.' And I've kind of carried that with me ever since then. 

"A lot of the time what we do is not fun, but we can always have a positive attitude and a positive impact. By saying those words, he kind of made me think about my mission in life, and my mission as a commander and as a leader. If you come to work with a positive attitude, ready to make those tough decisions, and you try to make a difference every day rather than setting some huge goal that maybe you're not going to achieve – well, you'll have the daily victories."


Nov. 13, 2014