An Education in Earth Science
With the help of a three-year grant from the National Science Foundation (NSF), a pilot group of students is set to graduate with a thoroughgoing knowledge of what it means to do science in elementary education.

The $190,386 grant is an unusual one, according to NSF representative Maria Zacharias, in that it is specific to teacher preparation in geology, and at the K-8 level.

Science education in elementary schools is currently receiving a lot of attention, but pre-service teachers who are interested in the sciences have more typically leaned toward the life sciences. Tim Flood (Geology) and Scott Kirst (Education) had strategized for several years how to integrate their areas of expertise into a single offering for education majors at St. Norbert College.

"When teachers don't know what to do, they go back to the way they were taught," Kirst says. "Most of our [education] students had no idea how to be a scientist and didn't know they could be one. They're learning how science works in their everyday lives and how to give that knowledge back to their students.

"We're taking content and making it meaningful in the education context.They can see the applications and how this material can be relevant."

The pair combined Flood's Introduction to Geology course with Kirst's Science Methods course into a single, yearlong offering with four credits per semester. The NSF grant provides funds to track the strategy's success and share findings with the wider academic community – including at a Carleton College/St. Norbert conference scheduled for next year.

Four students piloted the course this academic year, with a full cohort of 24-30 students expected for the 2014 fall semester. These education majors are now able to share hands-on experiences typically only available to science majors.

"We started out by taking a field trip with Dr. Flood to northern Wisconsin,and he gave us tips to use on field trips,"notes Emily McGrath '16. "While we were learning geology, we also learned about what kinds of questions we would ask a second-grade class."


Part of Flood and Kirst's research will compare results for education majors who go through the integrated course with those who go through the traditional course track. They will present their findings at a 2015 conference hosted on campus.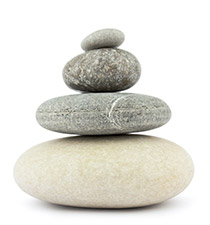 Grounded
"When these students finish the course, hopefully they will have learned a little about rocks, but more important, hopefully they'll learn how to teach rocks to their students. We want to engender a passion for science: Here's what the science is, and here's how you teach the science. Our hypothesis is, students will be better equipped to teach K-8 science by taking this course than by having the combination of courses we have now. We're convinced it's going to be better, by combining real-world applications with teaching theory." – Tim Flood


March 31, 2014