Holly Nickerson Still Likes St. Norbert College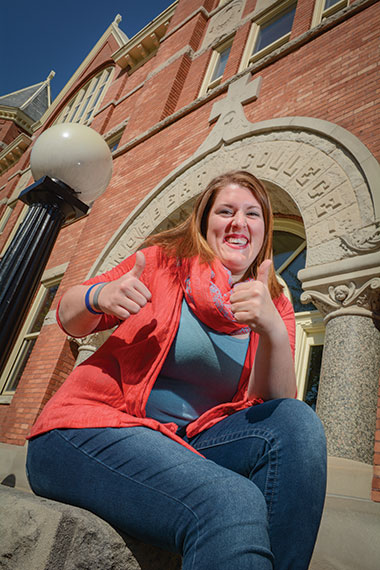 Holly Nickerson '15 has posted, updated and shared her way through the college experience, creating a modern-day journal in the process. In fact, her life has been a bit of an open book – or, not so much a book as an online presence – from the get-go.

Before she'd even left her hometown in Fremont, Ind., and arrived on campus in 2011, we'd invited the soon-to-be first-year student to collaborate with us on "Holly Nickerson likes St. Norbert College" (Fall 2011), an article that documented her first week of college through her posts on social media.

Now, as Holly winds down on her undergraduate years and enters into the next phase of her life, we thought it was high time to check back in with her.

Consult Holly – or the "About" section of her Facebook profile, anyways – and she'll describe herself with a whole slew of adjectives: fun, loving, energetic, passionate, stubborn, honest, truthful, caring, free, friendly, bossy, musical, loud, outgoing, theatrical, peaceful, driven, thoughtful, perfectionist.

These qualities were developed, encouraged, challenged and embraced as she friended – and texted, tagged, followed – others who helped shape the course of her life in very real ways over the last four years. There have been study buddies, confidants and her closest friend Paige Bayer '15, for starters.

We kept up with her as she got to know her professors, too. Holly worked with her mentor and adviser Charley Jacobs (Political Science) to create the new leadership studies major. She dog- and house-sat for Mara Brecht (Theology & Religious Studies), who offered guidance and advice from the heart during sophomore year when Holly coped in quick succession with three deaths among family and friends at home.
Friending others
"St. Norbert's idea of
communio
and community stretches to everyone, so the idea of passing someone on the sidewalk that you don't actually know and saying, 'Hi. How are you? Good morning' is real and it is universal," Holly says. "The warm and fuzzy feeling you get from that alone is amazing, but to have all of these individuals go further and care about me as an individual made it different."
Her journey extended well beyond campus borders, however. Holly's farthest stretch was well-informed by her campus job as a research fellow supporting the recruitment of international students. Take a peek at her blog – a platform that began as a way to stay connected to friends and loved ones as she headed overseas – and you'll spot a title that reads "Addicted to Adventures." As she reveled in a Spring 2014 semester at the University of Manchester in England, living in another country far from home offered up new excitement, new friends, new perspective and a whole new swirl of emotion.
In "My Flatmates, Friends and England Made Me Cry," Holly considers the significance of leaving her newfound network of companions behind: "All good tears, don't worry. Well, actually they were great tears. These girls have been absolutely amazing to me this semester … All in all, I can't picture Manchester, or this study-abroad experience, without them." She goes on to call her flatmates – Katie, Zoe, Alice, Havana and Catherine – the "sisters I've never had."
Since that trip, Holly's blog has evolved into a more all-encompassing reflection that has touched on summer jobs, on- and off-campus engagement, and even newfound romance.
In "Adventures in Camp Coordinating, Popcorn Popping and Box Officing," Holly writes of her work for the Northern Door YMCA Camp Compass and the American Folklore Theatre. Since then, she has been enjoying the spotlight in her own right. In "Return to the Stage," Holly writes about her discovery that ComedyCity, an improv troupe located just a couple of blocks from campus, would be hosting auditions. She took a leap: "The stretch I feel after each rehearsal and show is liberating," she writes. "Basically, improv is no longer a dream or a hobby for me. It's a lifestyle and a necessity."
Life-changing swipe
Check out Holly's Facebook wall and you'll see a key update: "In a relationship with Tom Haight." And how were they first introduced? That's right – the couple met online using Tinder, a social discovery app where "Any swipe can change your life."
Senior year has brought plenty of memories and milestones right on campus as well. Holly's presidency of the College Democrats, for example, has allowed her the opportunity to help revitalize membership and prepare events related to upcoming elections. But there was something particularly special about helping another transition into that leadership role.
In "Passing the Untouched Gavel," Holly watches a capable friend,
Anna Thompson '18
, take the reins. "She's actually from Fremont like me," Holly writes, "and I watched her grow through Key Club and other leadership positions during and after my high school years. She is, in a word, amazing. … I will continue to happily participate in the group through my last year, but I'm also excited to see where the group goes with Anna at the helm."
Next step
As she composed her end-of-semester papers and prepared for final exams this May, there was the usual blend of stress and excitement tinged with sadness as her undergraduate years came to an end. But Holly was in the enviable position of already having a job in hand. As a field instructor with New Vision Wilderness, she will be utilizing wilderness therapy as a means of healing traumatized and troubled youth, all within the scenic beauty of northcentral Wisconsin.
"This is a dream. This is perfect," she says. "I'm over the moon. I'm nervous. I'm scared. But there's a next point for me that I can now aim at, which is a lot easier than saying, 'I don't know what I'm doing after graduation.' "
July 3, 2015