Treasure/Cash Register Collection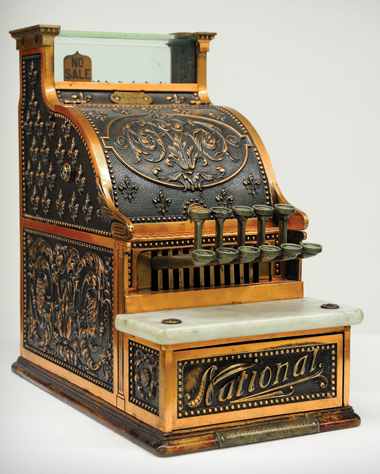 Most of the college's collection of vintage cash registers date from 100 years ago or more – from a time when businesses were not afraid to combine beauty and function. Today's world seems much more utilitarian.

The more ornate registers, like this one, may have come from department stores; the plain wooden ones from general stores. … Every one of them could tell a story. Every time the clerk rang up a sale – ding! – it  happened with a kind of flourish. 

These machines probably sat on their counters throughout the entire life of those businesses. They come from an era when things were made to last. I like it that our college, too, appreciates where it's come from. I think we appreciate the things we have, in a way that other places may not. It's not our way to tear things down; instead, we look for ways to renovate and improve upon them.

Kerrie Biebel can often be found taking payments herself, in the Campus Card Services office – just down the corridor from the case where the college's collection of vintage cash registers is displayed. This oxidized copper-finish cast-iron beauty dates from 1901. The complete collection was given to the college by George and Ramona Van Asten – parents of Mike Van Asten '75 – who takes up his new role as chair of the college's board of trustees later this year. 
---

Early cash registers evolved as American business expanded. During the second half of the 19th century, as cash transactions replaced barter, shopkeepers took steps to secure their money, says the American Museum of History's account: "It was hard to keep clerks from pocketing some of the cash they received. ... By the late 19th century, counters that tracked the number of revolutions of the shaft of a machine were widely available. James J. Ritty, a pub owner from Dayton, Ohio, reportedly saw a counter used to count the revolutions of the propeller of a ship on an Atlantic voyage in 1878. He thought that if one could count the revolutions of a machine part, one could count money coming into a business. On his return to Ohio, he enlisted the mechanical skills of his brother John to design and build what they dubbed a cash register. Their prototype machine had a large, clock-like face and a row of keys for entering amounts from 5 cents to 95 cents (by fives) and from $1 to $9. A mechanism inside the machine recorded total sales."
In 1878, the Ritty brothers patented an improved form of this cash register in which they replaced the recording mechanism with a paper tape, and introduced pop-up numbers to indicate sales. "Finding few customers, they sold their rights to the machine 1881. The new owners added a cash drawer, but were no more successful."
All this changed in 1884 when  John H. Patterson – one of the Ritty brothers' first customers – bought the business. He renamed it the National Cash Register Company, and in due course our model would roll off his production line. NCR soon dominated the cash register business. The machines evolved with the addition of features like an adding mechanism for individual sales (the first cash registers only recorded total amounts received); printed receipts; machines with several drawers, one for each clerk in a department store; and, in a few high-priced machines, automatic change-making. NCR has a continuous history of innovation. It developed one of the first automated credit systems; sold its first electronic model in 1957; and, in 2012, launched NCR Silver, a cloud-based point of sale system for small businesses.


March 14, 2016