A Familiar Face in "A Different Face of War"
A new book by Jim Van Straten '55 is drawn from 352 letters he wrote to his wife, Pat, while deployed in Vietnam, 1966-67. Van Straten had been assigned as the senior medical advisor to the army of the Republic of Vietnam in I Corps, an area close to the demilitarized zone. This excerpt from "A Different Face of War: Memories of a Medical Service Corps Officer in Vietnam" (2015) includes Van Straten's encounter in Saigon with an old St. Norbert classmate and friend, then Maj. Joe Lutz '55. 

In due course, Lutz would attain the rank of major general. He died in Florida in 1999. After Van Straten's 30-year military career ended in 1986, he retired as colonel. In 1990 he was appointed dean of the School of Allied Health Sciences at the University of Texas Health Science Center at San Antonio. Both Van Straten and Lutz, coincidentally, would in their turn be honored with Alumni Awards from St. Norbert: Lutz, in 1994, for service to the college; and Van Straten, in 1995, for public service. Here, the two men come across one another in much more trying circumstances, and on the other side of the world:

Major Don Ross, the officer I was replacing in Da Nang, was delayed by weather and arrived too late for us to get together on 12 July. Since there were important things happening in I Corps, Colonel Eisner, the MAVC Surgeon, insisted that I delay my departure from Saigon for one more day to accommodate a meeting with Major Ross. I badly needed his insights regarding how to proceed, so I did not object. That gave me an entire day with nothing better to do than look around Saigon. I assuredly did not want to spend the day in the Koepler Hotel.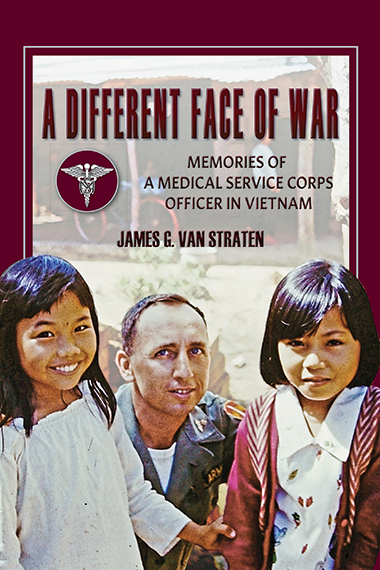 I found Saigon to be a very depressing city. It tore at my heartstrings to see the abject poverty and the homelessness of so many people. I was told that these conditions had arisen rapidly, within the past year or eighteen months at most, because of the tremendous number of refugees who had left their ancestral homes and flocked to the city for protection. The resulting contrast between "the haves" and "the have-nots" was stark and very visible. While "the have-nots" were trying to scratch out a living on the rat-infested garbage piles, "the haves" were going about their daily business wearing fine clothes, eating in fine restaurants, and more or less ignoring the poverty, the squalor, and the acrid smells of urine, feces and rotting garbage all about them.

I was amazed at the resourcefulness of the children. During my six-hour walk throughout the city, there was a very hard fifteen- or twenty-minute rain. It seemed as if half the poverty-stricken kids in Saigon under the age of ten, and there were a lot of them, took off their clothing and got a good bath during the downpour. A few had bars of soap, and those who were so blessed always seemed to share their bars with those not so fortunate.

At one point during my walk, I saw a little girl, probably five or six years old, who amazed me with her strength and resolve. She walked up to a community water spigot and filled two five-gallon cans. She then inserted a six- or seven-foot-long pole into the handles of the water can – a can at each end of the pole – put her shoulder under the middle of the pole, and walked away. She appeared strong, tenacious in her determination to supply water for her family. I think of her often, the look of perseverance on her dirty, beautiful face.

***

During our eventual two-hour meeting the next day, Major Don Ross gave me many insights into the Buddhist Uprising in I Corps. I came away from the meeting with a much better feel for what I could expect upon arrival. Major Ross was uncertain regarding what role, if any, my soon-to-be Vietnamese counterpart played in the uprising. He stated that, since the city of Da Nang was currently off limits, his contacts with him during the past few weeks had been limited.

At the conclusion of our meeting Major Ross casually mentioned that toothpaste and shampoo were in short supply in Da Nang. He recommended I go to the PX in Saigon and purchase some of each before departing for Da Nang in the early morning. While at the PX, I ran into an old St. Norbert College classmate and friend; Major Joe Lutz was assigned to a Special Forces team and had been in country for several months. He seemed to know his way around Saigon and invited me to have dinner with him that evening. He said he had a jeep and would pick me up at 1900 hours at the Koepler Hotel. 

That evening, prior to dinner, Joe showed me many interesting things in Saigon, primarily in the harbor area. I can't recall with certainty the name of the hotel where we enjoyed dinner, but I think it was either the Rex or the Caravelle. Joe suggested we eat alfresco in the rooftop restaurant of the hotel. By this time, it was approaching 2030 hours, and the sun was starting to set. We sat there on top of the ten-story hotel, one of the tallest buildings in Saigon, with a cooling breeze making things very pleasant. We reminisced about our days in college, about playing football together, and about old friends, while enjoying a couple of gin and tonics and listening to a small band with two excellent singers, one male and one female. Joe told me that Vietnamese singers have a reputation for being outstanding imitators. He was right. We listened as the male singer recreated Elvis Presley, Johnny Cash, Louis Armstrong, and others. Equally skillful was the young woman, who mimicked the work of Teresa Brewer, Patti Page, Janis Joplin, and even the late Kate Smith. The evening was beautiful, the entertainment was great, and our gin and tonics tasted better by the minute.

Eventually we ordered food. I chose lobster and was not disappointed. It was delicious. When we were finished with our entrées, we both ordered desserts and coffee. All the ingredients for a wonderful evening were present: tasty food and drink, classy entertainment, and spirited conversation with a good friend. By this time it was pitch dark. The war seemed so remote, almost non-existent. And then it started.

Whomp, whomp, whomp, a very unusual sound coming from what seemed to be the very edges of Saigon. Whomp, whomp, whomp, whomp, it continued.

I looked at Joe and asked, "Joe, what in the hell is that noise?"

He said, "Come over here and I'll show you." We walked over to the edge of the roof and stood there peering over a four or five-foot wall guarding the edge. In the distance, I saw the flash of an explosion and then two or three more in rapid succession. Then there was a three or four second delay before the noise began again, whomp, whomp, whomp.

Joe said, "It's referred to as Arc Light bombing. Our B-52s are conducting a bombing run."

I said, "Bombing run? I can't even hear the planes."

He then explained that the B-52s were flying at altitudes of 32,000 to 34,000 feet and that the planes were usually not detected by the enemy before the bombs exploded all around them. Joe also told me that the B-52 crews dropped their conventional 750- or 1,000-pound bombs from high altitudes with great precision, usually targeting enemy base camps, troop concentrations, and supply lines. 

I said, "Joe, the explosions sound so close."

He said, "They're farther away than you might imagine, probably several miles outside of Saigon's defensive perimeter."

I asked, "Do they ever miss their primary targets?"

He answered, "Not very often, but when they do, the results can be disastrous." Suddenly the hotel rooftop didn't seem as far removed from the war as it had moments before. It was a somber end to a memorable evening with an old friend. 


March 14, 2016