Alum to Serve as Next Abbot of Daylesford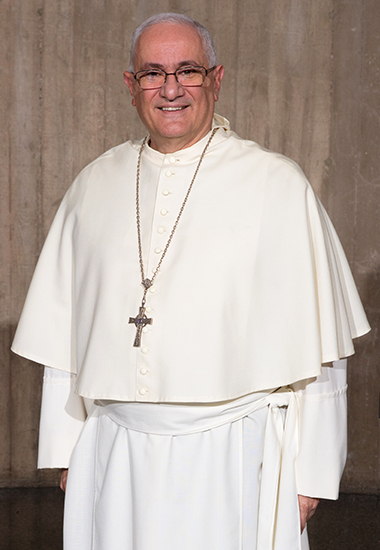 St. Norbert alum the Rev. Domenic Rossi '70 was elected abbot of Daylesford Abbey on Jan. 23. The new abbot's leadership at the Pennsylvania abbey places him at the head of the first daughter abbey of St. Norbert Abbey, De Pere – but Rossi's SNC connections do not stop there.
In 1979, answering a call to assist the poor, Rossi founded Bethesda Project, a nonprofit organization. Today, Bethesda serves the homeless at 14 sites throughout Philadelphia. In 2006, the Rev. Sal Cuccia '63 began leading a men's service group through the St. Norbert College TRIPS program to Our Brother's Place, a Bethesda shelter for homeless men in North Philadelphia. More recently, the experience has been offered to both men and women.
Cuccia says, "The participants learned that part of Bethesda's mission statement is 'To be family with those who have none.' Abbot Rossi stressed the importance of treating the guests at the shelter as family and getting to know them as persons.
"An example he used was serving a meal. You can dish it out and pass it to the person or you can pass it to the person using their name. Their interaction with the guests through conversation and playing games — chess, checkers, cards and dominoes — gave the students the opportunity to know them, treat them as family and serve them by name."
Rossi received the St. Norbert College Alma Mater Award in 2013 for his service to those in need. (The award is the premier distinction bestowed on alumni through the annual alumni awards program at the college.)

The new abbot says that his top goal is to heal divisions and bring people together much as he has done through outreach. St. Norbert, who was known as a reconciler, and Jesus Christ himself serve as Rossi's inspirations.
"I don't know of a time since I've been alive that was more polarized than now, even at the height of the Vietnam War," he says. "Even sometimes in the Church we see elements of division. In a sense, my ministry at Bethesda was reaching out to people on the margins the way Jesus did.
People who have differences "may be tempted to demonize those with other opinions," adds Rossi. "We have to be able to see beyond our differences, to find unity in Christ. We should look at 'the Christ' in the other first, before we divide ourselves."
Answering the call: a path of ministry and service
Rossi is a graduate of St. John Neumann High School in South Philadelphia. The Norbertines opened the school in 1934 and operated it through 2000. Rossi was vested by the Norbertines in 1966. He was ordained to the priesthood on May 25, 1974.
In addition to serving as Bethesda's chief executive, Rossi ministered in parishes. In 1991, he was appointed pastor of Our Lady of the Most Holy Rosary Parish, a large Hispanic congregation in Albuquerque, N.M., where he developed outreach to the considerable immigrant population in the area. He served as pastor of St. Norbert Parish in Paoli from 1997 to 2010, and was pastor of St. Gabriel Parish, a poor faith community in South Philadelphia, at the time of the election.
An abbey for all
Daylesford Abbey was known as Daylesford Priory when it was founded in 1954 in Berwyn, Penn. The Norbertines moved to the current location in Paoli in 1966. The priory was elevated to abbey status in 1971. Twenty-eight Norbertines currently live at Daylesford. Rossi plans to be visible as abbot, including celebrating the abbey's 10:30 a.m. Sunday Mass once a month.
"The abbey is here for the faithful," he says. "We welcome new people to worship with us and to participate in our spiritual renewal and service programs."

Feb. 6, 2018