'My Voice is More Powerful Than My Face'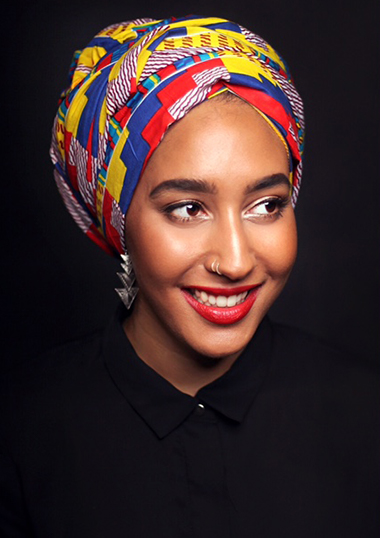 Mariah Idrissi started making waves as the first hijab-wearing model in a major campaign for H&M, and now she's hoping to make a bigger impact on the fashion industry. Idrissi recently visited St. Norbert College to speak about female empowerment with an aim to "bring modest fashion to the masses," regardless of faith or background.
Idrissi is the first hijab-wearing model to be signed to Select Model Management and to be featured in a global campaign for H&M, which appeared in 2015. The worldwide attention to the ad came as a surprise to the then-recent college grad from London, and she didn't expect to be catapulted into the fashion industry. 
"There are so many issues in this industry that are overlooked," she says. So, when she's not posing for photographs, she's traveling the world as a public speaker, talking about issues such as diversity, body image, modesty and social media. "My voice is more powerful than my face," she explains.
The Norman Miller Center for Peace, Justice & Public Understanding hosted Idrissi's talk at St. Norbert.

A face for all seasons
After appearing in the H&M ad, Idrissi continued to pursue a modeling career, but, despite the excitement and attention garnered for being the world's first hijab-wearing model, it was difficult to find brands willing to put a hijab-wearing woman in their advertisements. Most told her they were only interested in using her for campaigns during Ramadan or Eid.
"Well, I don't just wear a hijab when it's Ramadan or Eid. I wear a hijab all year-round, and so does everyone else. So it's a bit unfair that you'd only use me as and when it suits you," says Idrissi. "So the struggle I had with the fashion industry, and it still goes on today, was mainly because they didn't get it. They didn't understand, and I don't think they really wanted to understand. I feel like H&M got what they wanted, they got their buzz, they got all the attention, and then it's like, 'OK, done. We're not doing that again because it'll be way too political.' "
Idrissi says it's time the fashion industry gets away from "tokenism," or using minority men and women on occasion to give the appearance of diversity, and instead should aim to mirror the world's population:
"For so long the Muslim community has been misrepresented. We haven't had much inclusivity, we haven't had much diversity, we haven't had much representation. And considering we are one-quarter of the world's population, it's sad that only now we're starting to see fashion change and evolve where there is representation."

A modest proposal
Idrissi also hopes to increase representation of modest fashion and to get away from over-sexualizing women in the name of fashion or to sell products.
"It's understandable that we have to have [multiple] representations of fashion and beauty, and for so long we haven't had the modest representation or the representation of minority communities," she says. "But it's, just for me, overpowering to see so much sexualization."
Modest fashion is gaining ground, Idrissi says. Several Modest Fashion Weeks have been held throughout the world. "It's a step in the right direction. … It is starting to slowly grow into a movement," she says.

St. Norbert College is grateful to the University of Wisconsin-Green Bay for inviting Ms. Idrissi to the area, and for its generosity in sharing this opportunity.


Nov. 7, 2017