Alum Gets Teaching Down to a Fine Art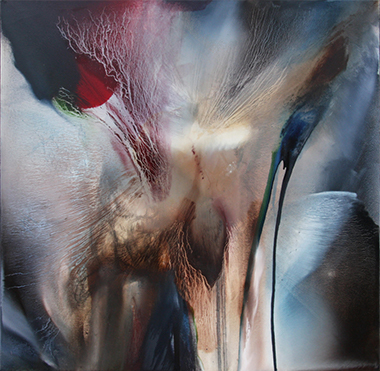 When Patricia (Sieren) Frederick '71 talks about art, her passion not only for her own work, but for teaching it to students, is palpable.
For 41 years, Frederick has taught art at Pius XI Catholic High School in Milwaukee, and as department chair she has led the school's art program to national prominence. Her own work, including the oil painting "A Rabbit's Tale" featured here, speaks to her talent.
"There's something about the spark in the students' eyes when they are working on art," says Frederick, who recently received the Pius XI Award for her dedication and service to the school. "It's wonderful to share the magic of creating art with students."
Frederick didn't set out to teach art when she graduated from St. Norbert College with a bachelor's degree in fine arts. She married and moved with her husband, Greg Frederick '71, to Missouri, where she took a pottery class. After returning to Milwaukee, she signed up to take a pottery class at Milwaukee Area Technical College just so she could gain access to a kiln – but she wound up teaching the class.
"Then the opportunity came up to teach at Pius, and my husband told me I could not pass it up," she says. "It turned out that I loved teaching."
Since joining Pius's art department, Frederick played an instrumental role in raising the department's profile both in and out of the school. The increased awareness helped expand the school's visual arts staff from two teachers to eight and also garnered interest from academic institutions. Harvard University and others have studied the program since Frederick has been at the helm.
"During the early years, I spent a lot of time convincing other faculty that art is just as vital as academic subjects," she says. "Creating art has a positive effect on someone."
Five students from the school have been named Presidential Scholars in Arts, and Frederick has received several regional and national awards. The International Network of Performing and Visual Arts Schools named her teacher of the year, and the White House Commission on Presidential Scholars granted her the distinguished teacher award. She also received a St. Norbert College Alumni Award in 2002 for distinguished achievement in education. 
Frederick takes inspiration from the Montessori concept, focusing on individualizing instruction for each student, in designing Pius's art program. 
She says her St. Norbert roots have grounded both her teaching and artwork: "At St. Norbert, I had several instructors who influenced me, not only in my teaching, but in my art," calling special attention to F. William Bohné (Art, Emeritus), Robert Boyer (English, Emeritus) and Barb (Effenberger) Boyer '62.
"I am inspired by so many things in my art, including natural forms, animals, space, and how form emerges over time, creating structure and light," she says. "Creating art is intense and my work is very spiritual. St. Norbert has definitely been my rock."
In addition to teaching different art classes, Frederick, who earned a Master of Fine Arts degree from the Maryland Institute College of Art, is a dedicated artist. She commits to carving out time in her schedule to paint.
"Life is more than just cleaning, cooking and watching TV. I spend time every weekend working on my art," she says, adding that making time for her two children and four grandchildren is also a priority. "I'm looking forward to retiring before not too long so I can dedicate more time to my art."

March 6, 2018