Sophomore Accepted to D.C. Advocacy Program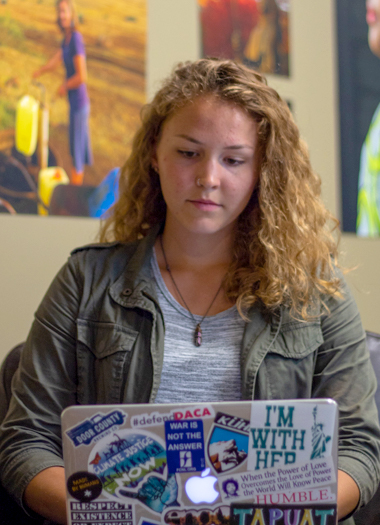 Creating awareness around social justice and human rights issues is an ongoing effort that sometimes brings tough conversations – especially when the issues are deeply rooted in political leanings.
But Brinn Anderson '20 is confident in her opportunity to bring such discussions to the St. Norbert College community this year. 
Anderson, pictured on campus, was chosen this past spring as one of 20 advocates – out of more than 500 applicants – for the Advocacy Corps, a Quaker program founded in 1943. The corps works with young adults throughout the United States to inspire grassroots lobbying efforts on issues surrounding peace, justice, opportunity and environmental stewardship. The 2018-19 team is focusing on confronting police militarization, a hotly debated topic that's become top-of-mind in many United States communities. 

Starting young
Anderson, a sophomore this year at St. Norbert, has always had an interest in social justice and equality. A resident of the Chicago suburbs, she has seen how these issues regularly affected marginalized Chicagoans, and they have consistently been on her radar. 
But her passion for justice really ignited during her experience in SNC's Gap Experience. She spent her first semester as a college student off-campus traveling to the Canadian northshore of Lake Superior, the south-side of Chicago, and Albuquerque, N.M. 
It was her journey to Guatemala that had the most personal impact, Anderson says. While there, her Gap group considered how U.S. policies heavily influence Central American politics and immigration.
"I learned the most while in Guatemala," says Anderson. "Our trip to Casa de la Memoria [House of Memories] was heart-wrenching. It showed us so much about the Guatemalan Civil War, and I couldn't sit easy after that."
It was clear that Anderson had an enthusiasm to do something more, so the Gap program sponsored her trip last March to the Friends Committee on National Legislation's (FCNL) Spring Lobby Weekend on immigration reform, under the premise she would return to campus and serve as a social-justice advocate. It was there that Katie Breslin, FCNL's young-adult program manager, encouraged Anderson to apply for the Advocacy Corps. "One of the most intriguing, but frustrating, things for me to see was that there was little to no representation from Wisconsin or Illinois at the spring conference," says Anderson. "I was super fired up about it and really felt a calling to bring this program back to the places I care deeply about, to my homes." 

Conversations across differences
After her acceptance into the program, Anderson attended a week-long training session with FCNL. She and her advocacy peers workshopped plans on how to organize their communities, discussed tactics for talking to people with different perspectives and learned the best ways to interact with media. They also participated in lobbying campaigns and experienced firsthand how to set up visits and follow-ups with government representatives and political leaders.
Anderson emphasizes that when it comes to these conversations, there's a balance needed between being too sensitive or too insensitive. If you're on either extreme, the conversation is unproductive and people usually walk away with nothing positive achieved, she says. 
"I hope to build up my ability to pivot a conversation when it isn't going anywhere," says Anderson. "You want to keep the conversation going because the more you talk, the more you can understand, [because] the person you're talking with won't feel shut out." 
Ultimately, she says, it's not so much about a concerted effort to persuade, it's more about making sure everyone in the discussion feels heard and has the opportunity to learn from other points of view. It should be organic and natural, even if it doesn't necessarily change minds right then and there. 
This is the type of experience she wants the St. Norbert College community to have.
"I'd really love to get people to participate in roundtable discussions and give a way for them to open up with each other in a safe environment," she says. Her other plans include coordinating lobbying and phone campaigns targeting specific representatives when bills are brought forward for a vote. She also hopes to work with student organizations like the College Democrats, College Republicans and the Black Student Union, among others. 
"I want to help students on campus get energized by physically bringing them to Washington and Madison [Wis.] to lobby in person. By mobilizing them, they're not just talking about [the issues], they're doing something," she says. "It's such an important part, but it's also the toughest, so by making it easier on them, they'll be able to use their voices for change." 
Learning for change
Anderson encourages people interested in becoming more involved in advocacy to check out the Religious Society of Friends – the Quakers – committee website. She calls it "Google for social-justice issues." 
She recommends finding what you're passionate about, going to events and not being afraid to have conversations. Exercising the right to vote is crucial. Finding people for public office who generally support what you want to see materialize in your communities can only happen with your voice. 
"You can be internally passionate about an issue, but never do anything about it," argues Anderson. "And if you can't talk about the issue, things can't move forward. Actions speak louder than words, but they can't happen without the words themselves."
The budding sophomore hasn't declared a major just yet, but she has a double minor in Spanish and peace and justice, and is president-elect this year for the student org Oxfam America. 
Diana Delbecchi (Gap Experience) expects Anderson's journey will positively impact campus and everyone involved. 
"Brinn is a bright, driven and incredibly mature young woman with a fierce determination to change the world," says Delbecchi. "I am inspired by her willingness to step up and be an advocate on these issues at such a young age, and I am energized by all the doors she has open in front of her."
Along with her advocacy position, Anderson will also work in a shared position between the college's Gap program and the Norman Miller Center, where she'll focus on issues related to immigration and refugee rights. She'll plan events that bring important issues to light and help connect people on campus who are passionate about social justice. By helping her peers find their niche, she says, she hopes to continue spreading social-justice learning opportunities like the ones she has had.

Nov. 16, 2018