In Case You Missed It/New Frontiers for a New Academic Year
We've been preparing for a year like no other here at St. Norbert, finding innovative ways to bring everyone back to campus safely in a COVID-19 world. Here's a roundup of some of the things we've been doing and the stories we've shared via social media, websites or other publications since our last issue.
Life on campus
Aaron Gonnering '23 – someone who has "been there, done that" – shared with incoming first-year students his top tips for a successful move-in.



Teaming up with the office of admission, faculty held virtual panels to give incoming and prospective students a taste of academic life at SNC. In addition to a general overview, students were given a look at the natural sciences, business administration and teacher-education disciplines.

Preparing for an unprecedented year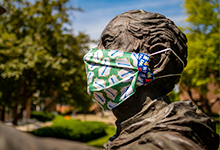 Faculty and staff held a virtual panel to give students and their families a peek at what life will be like on campus this fall. The Life on Campus in a COVID-19 World panel covered topics ranging from academics to housing and student organizations to health and wellness. Panelists included David Bailey (Natural Sciences), Stephen Rupsch (Visual & Performing Arts), Joe Totman (Housing), Melissa DaPra (Dining Services), Shelly Mumma (LSE), Chrystal Woller (Health Services) and Corday Goddard (Student Development). The panel was part of a series of virtual events held during this year's Summer Orientation.
All members of the SNC community were asked to sign the COVID-19 Community Safety Pledge before arriving on campus, and facilities have transformed areas of the campus to adapt to new safety guidelines.
The college is finding ways to streamline new processes and keep students and staff safe, including making innovative changes to dining services that caught the attention of CNN. And, speaking of national media, the go-to trade journal Inside Higher Ed picked up immediately on SNC's new ninth-semester-free promise. Here's their coverage, and find all the details of Norbert's Ninth elsewhere in this issue. 

Aug. 18, 2020