In Case You Missed It/We Made It!
A lot has happened at St. Norbert College this year. Here's a roundup of the few of the stories we've shared via social media, websites or other publications since our last issue.

We made it!
At St. Norbert College, we believe fiercely that there is no better college education than one that takes place on campus, in person. We knew that keeping everyone on campus safely this fall would take a commitment on behalf of our entire college. And – thanks to the care and concern our community showed for one another – we did it! It wasn't business as usual, that's for sure – but we got it done. Local news stations noticed.

We had COVID-19 cases; we had students in quarantine; we had strict limits on what we could do and what we couldn't. Our students made a lot of sacrifices. But they also showed remarkable resilience and resourcefulness in the face of difficulty. (You'll be able to learn more about how the community navigated the COVID-19 pandemic in the next issue of St. Norbert College Magazine, which will be published Jan. 15.)

In this letter to parents and families, the Rev. Jim Neilson '88 reflects on the semester, and looks ahead to the opportunities offered by winter break, like exercising mindfulness, resting well, cultivating the art of letter-writing or even some baking. And if none of those pique your interest, try this SNC jigsaw puzzle, put together by the office of alumni and parent relations.

Bet your bottom dollar
SNC grads rank high in a significant indicator for future security: the rate at which they pay back their student loans. The latest data published by the U.S. Department of Education shows the nationwide federal student loan default rate is 9.7 percent. St. Norbert's rate? A mere 1 percent.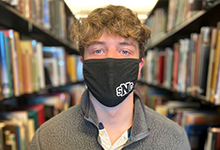 Ralph Hombsch '24 is on a path to graduate from St. Norbert debt-free. In a recent Humans of St. Norbert post on Facebook, Hombsch details how he earned more than $19,000 in outside scholarships for his college education.

The Schneider School's Center for Business & Economic Analysis, in partnership with the New North, presented an analysis on the economic outlook for Wisconsin and the New North region. Marc Schaffer (Economics) was joined by SNC student researchers and Wisconsin Department of Revenue economists to discuss where the economy is headed in the wake of the COVID-19 pandemic. Read more.

Dec. 17, 2020