In Case You Missed It/Keeping Busy
The campus itself may be quiet heading into late summer, but St. Norbert College is as busy as ever! Here's a roundup of some of the stories we've shared via social media, websites or in other publications since our last issue.

Learning and listening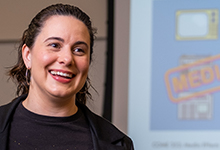 Our magazine feature extending your St. Norbert education continues with another short profile of a course taught by our own faculty. This time, we sit in on COME 352 Media Effects with Valerie Kretz (pictured), assistant professor of communication and media studies.

Katie Ries (Art) offers a quick tutorial on making your own zine in an episode of SNC Strong: Communio Through COVID-19, an occasional series in our internal newsletter.

In Listening In in the online summer magazine, we polled eight SNC professors for their favorite sounds, and their answers range from amusing to insightful to instructive.

The focus of a new anti-racism website underscores our founding traditions to uphold the sacred dignity of all persons, think critically, act responsibly and foster a supportive community that allows all to flourish. At St. Norbert, our mission calls us to be open to lifelong learning and critical self-reflection, and to actively dismantle racism in every shape and form.

Celebrating our students
"Trying to advocate has been a learning curve," says Neale Tracy '21. The president of the Equality Project, a student organization at SNC, talked about her efforts to seek justice and equality in a recent Humans of St. Norbert feature.

In our Summer 2020 Standout Student feature, Porter Beilfuss '22 shares his newfound passion for service, the things he loves most about SNC and his goals for life after college.

Catching up with our alumni
We checked in with Mark O'Brien '93, who has been leading youth sports complex LakePoint Sports through its response to the COVID-19 pandemic.

Before Amy Holzer '20 heads off to medical school this fall, she sat down with us to talk about the most impactful experiences she had at SNC.

July 28, 2020