The Woman Who Taught Santa Everything He Knows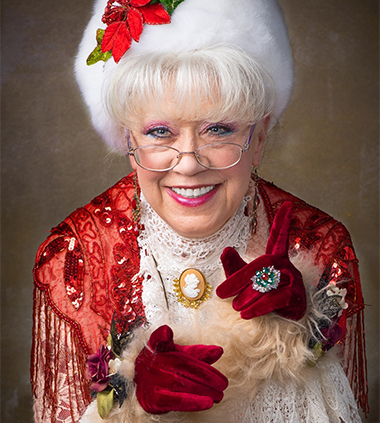 When you need a visit from Santa Claus, you call Susen Mesco '79. From humble beginnings, training six would-be Kriss Kringles in her living room in how to properly don the red suit, Mesco now organizes, and sometimes participates in, more than 1,300 events every year just in the Denver area. Her career in the business of recruiting and developing Santas has been a whirlwind experience, and she wouldn't trade it for anything.

Mesco says: "In a normal year, I connect with about, personally, 250,000 children. … The world has become such a difficult place, a heartbreaking place that when we see grandma and mommy and daddy taking that child and passing on their memories of their childhood … that good-feeling family tradition … that pure magic and joy and that we don't get everywhere else."

One thing leads to another
Mesco never thought, in her wildest dreams, that she'd end up in the Santa industry. But the signs were always there.

In her youth, she remembers, she was always a bit of a party planner and organizer: "Even when I was little, I would put carnivals on in my backyard." But when she arrived at St. Norbert in the 1970s, she and her friends started school thinking thoughts like, 'I'll be a mom in the summer and a teacher in the winter.' That all changed when Mesco heard echoes of the women's rights movement and, in particular, the words of Gloria Steinem. She says: "I was going to be a French teacher. … And I started studying international business."

She settled in Denver and bought a photography company, which led to a request to help a customer book a Santa Claus. "They said, 'You're so fun, why don't you do our Santa,' and I thought, 'Well how hard can that be. You get a couple Santa suits, get the camera … no big deal.' " The more she observed the business of Santas, the more areas for improvement she noticed. "All I saw were miserable experiences. Children were crying, parents were cranky and Santa was slouchy."

She set out to write a manual for a better Santa Claus experience and invited six men to join her first year of Santa Claus School. (2022 will usher in Mesco's 40th annual Santa School.)

It was a resounding success. "After my first year when I did two malls, the word got around in Denver that this was a different experience. My second year, we had 14 malls," Mesco says.

Professional Santas offer more than photo ops
Mesco strives to provide a festive, memorable and educational Santa experience. She starts by giving her St. Nicks a robust education on how to connect with children of all ages, education levels and communicative abilities. "I teach some sign language. I teach a course working with autistic and special-needs children. … This is direct from St. Norbert; it is child development. Your three-year old needs something different from your five-year old, from your nine-year old," she says. This is the first step in becoming one of Mesco's Certified Professional Santas, the first certification program of its kind.

To attain that level, Santa students must complete nearly 200 hours of online instruction, attend a rigorous five-day convention filled with 72 seminars, and spend the following year checking in with Mesco over 15 one-hour sessions. This is in addition to lessons in hairstyling, wardrobe and tending to reindeer. (Mesco owns a few of her own.)

There is also an elite tier of Santas, around 150, that are available for larger events for the likes of Disney, cruise ships and resorts. Mesco's Santas can spend up to $8,000 for a suit, $600 for boots. Customized belt buckles can be up to $1,400.

Becoming the "Queen of the Santas"
Mesco has trained Santas from all over the world, including some from Italy, Korea and the city of Jerusalem. Her school is the second oldest in the nation and it brings a smile to her face every time – at least when she has a moment to breathe.

"Watching these gentlemen who are still very vibrant, maybe all their children are grown, maybe their wife has passed away, now spend the time at Christmas, taking the best of what they are and molding that into bringing happiness into the world …" she says. "I've had some Santas for over 20 years." Mesco often dresses up as Mrs. Claus to join in the fun and support Mr. Claus.

These days Santas are everywhere and not contained to a wing in the mall. Mesco organizes fewer than 10 mall events per year; instead, Santas are scheduled for corporate events, homeowners association meetings, conferences, trade shows, etc. In past years, she's worked with Walmart and Bass Pro Shops, and she provides Santas for commercials, namely Hallmark's. She has more than 5,600 Santas on her roster to keep up with demand.

A recent shortage of Santa Clauses has made national headlines, and as one of the country's most prominent Santa-event organizers, Mesco has fielded interviews with The Wall Street Journal, CNN and Nightline.

In recognition for her industry-leading business and dedication to bringing Christmas joy, Mesco was inducted into the International Santa Claus Hall of Fame in 2019.

Photo credit: Ron Cooper Photography.

Dec. 14, 2021