Language-Learning Legacy Brings Tokyo Student to St. Norbert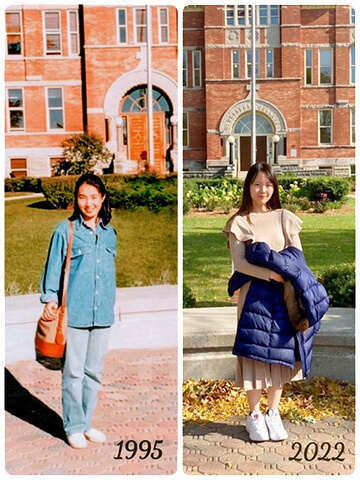 Two-and-a-half decades after her mother, Tomoko Sato, set foot on the St. Norbert campus to learn English through the college's ESL Institute, Chihiro Sato made her own journey to De Pere to study the language. Their combined experiences bookend nearly the entire lifespan of the program; it was only a few years old when Tomoko moved into Sensenbrenner Hall.

Tomoko (pictured, on the left) came from Aoyama Gakuin Women's University in Japan and stayed for two semesters, studying and assisting professor Ikuko Torimoto with her Japanese classes. Tomoko remembers that year fondly for the education she received: "The ESL program gave me the strength to connect with the world through English. It has also given me the opportunity to open my eyes to the world and to communicate with people from different countries easily through English."

But her greatest memories are those she shared with friends. She roomed with a student from the United States who invited Tomoko to Christmas at her grandfather's house. The then growing international community also formed a tight bond. "There were many international students from many countries at that time. We all got together to cook together and stayed at someone's house or dormitory every week. I still keep in touch with my friends from that time," she said.

Chihiro (pictured, on the right) is studying advertising at the University of the Sacred Heart in Japan, with a focus on human relationships and social media. She chose St. Norbert because of her mother's experience, and because she wants to use English in her career. She says that the education at St. Norbert is quite different from that at a typical Japanese university, and in good ways.

"Every international student goes to an event every Tuesday and it's so exciting. My ESL class is almost all Japanese, five of seven people are Japanese. The program has students from various countries. I talk with all of them," says Chihiro. "In Japan, we often don't have conversations with teachers. The teacher just talks and explains, but in the U.S., there are so many conversations with teachers and classmates.
"I have enjoyed the cafeteria. I have not experienced the buffet before."

Tomoko says, "I hope that my daughter will be able to use English as a tool to connect with people from all over the world, just as I did."

The program's humble beginnings
Richard Porior was hired to be the first director of the St. Norbert ESL Institute in 1993. Having previously worked with English language learners at University of Wisconsin-Stevens Point and Hamline University, and in Mexico, Laos and Taiwan, he assembled a curriculum, largely still used today, that would serve 75 students in its first year.

"When Richard started here in 1993, he was coming in with all this wealth of knowledge and experience," said Jana Dettlaff, the current director of the ESL Institute. At the time, it was unusual for a college like St. Norbert to have an English-language learning program. Porior, who retired in 2011, recalled that Indonesia, Korea, Japan and Malaysia were the big sources for students, but that could always change in an instant depending on the price of oil and on currency exchange rates.

"We had students coming in mid-semester and going in mid-semester," says Porior. "Ikuko Torimoto saved my life with her contacts in Japan, especially Nihon University," he says. That relationship still stands to this day. When travel ceased over the pandemic, the ESL teams started a small online program for Nihon, Tsuru University and Musashi University students. A few Norbertines based in the Czech Republic and Slovakia also studied online during this time.

Students come from South and Latin America, some from Europe, the Middle East and a few from Africa. But ESL students are largely from East Asia. And in most semesters, two Vietnamese nuns study on campus. They started coming in 2009 and usually stay for a semester or two.

When currency rates change, or global and national economies struggle, however, enrollment numbers can decline. After the tragedy on Sept. 11, 2001, the Saudi students all went home. And the recession beginning in 2009 led to a several-year downturn. At its height in 2008-09, the ESL office saw a total of 455 students come through their programs.

"I think that's what's incredible about the ESL Institute: It weathered all of that," says Christina Hankwitz, current director of international student and scholar services and former director of the ESL Institute. The college supported ESL at a time when large universities shut their own programs down and are now tasked with trying to revive them.

Achieving high language proficiency
Each student studies for as long as they need to, whether that's over a single eight-week session or over an entire academic year. Universities abroad often have fixed lengths for their students; Nihon typically sends students for a semester and a half, August through March, and Tsuru sends students from March to July.

ESL students take non-credit bearing courses. They have 18 class hours per week, the time driven by student visa requirements, and advance through three levels of language proficiency (depending on how long they are at SNC). They take five classes per half-semester session in writing, reading, listening, speaking and grammar. Advanced classes are intended to help students reach a level of language proficiency that would allow them to be admitted into the college or another institution.

"The degree-seeking students that are looking to come to St. Norbert need to have a language proficiency requirement met. But we do have programs if they don't have a score that's high enough. They start with us and when they complete this program, they are able to matriculate into the college," says Dettlaff.

Porior says, "When I was here, in general about 30 percent of students would matriculate into the college." These students would move on to take credit-bearing courses towards a bachelor's degree at the college, as any other student would.

The opportunity to build friendships and enjoy an immersive cultural experience
Dettlaff says she notices students coming in with a generally higher level of English language skills, noting that around the world educational institutions are placing a higher importance on the subject. But those programs have their limitations.

"I think one thing that can be deceptive is that now that everyone has access to translation apps and websites, we'll get emails and think that their English is strong, but they show up and we realize, 'Oh, that was Google.' " says Hankwitz. "You can really tell the difference between a student who has studied English formally and a student who is self-taught, learning it just through listening. Those students need very different things. The student who learned it in the classroom maybe can get the worksheets correct or on a grammar test they'll do great. But ask them to stand up and tell a little bit about themselves, and they may struggle."

Simply learning the words is not a substitute for an in-person, culturally rich experience. The ESL programs include culture immersion experiences for their students like service-learning, trips into the community and events that invite ESL students into the greater SNC community.

"One thing that has always surprised me when we do those assessments at the end of the year, and the feedback from the students, almost always we hear from them that they are either really happy that they've made a friend, or very unhappy because they didn't. At the core, they can learn English at home, but they came here to make friends," said Hankwitz.

In the fall 2022 semester, the staff resumed an annual ESL football clinic with the SNC football team that gets incredibly positive feedback. The Friendship Family program matches students with a family in the community to have dinners and go on outings, the Conversation Partner opportunity helps students practice English with native speakers and make new friends, and Global Roommates pairs international students with domestic students in SNC residence halls.

Students are also encouraged to participate in one-day externships in local companies. Totani America, a package-making machine company, has been a valued partner since 2005 in this regard. They host students, giving them tours and insight into American manufacturing.

"All these things we've tried to do, it always felt like we were sharing these people with our community. I would talk to people on campus, and I would say, 'I teach ESL.' And they would respond, 'Oh, I didn't know we had ESL.' … And I thought what a shame that more people aren't meeting these wonderful people. The students are benefitting, but the community also benefits," said Hankwitz.

It's a family
The ESL Institute at SNC is close-knit and operates much like a family unit. For many years, the mother of the family was office manager Linda Wanless '88, who herself taught English in Japan for five years and was fluent in four languages. Wanless, who died in January 2022, is fondly remembered by Dettlaff and Hankwitz for her dedication to the students.

The program's hallmark has been its mission to never let a student fall behind, no matter their level of introversion. Hankwitz said, "If an ESL student is going to a program in a large city or at a large institution, they have to have an internal drive and the personality to interact with people. Otherwise, they could spend their whole time in America going to class, going back to their rooms and not talking to anybody. But here at St. Norbert, we would never let that happen. … We're not going to let them waste this opportunity."

And like any family, it's hard to say goodbye. Hankwitz said, "I always need a box of Kleenex at every farewell."

Dec. 9, 2022