GRACE Gift Empowers Catholic School System Colleagues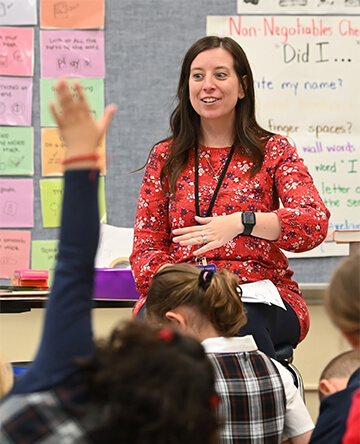 "Whoever had this vision, it was an excellent vision." – Howard Ebert '74 (Theology & RS)

It's a gift whose value is nearly impossible to calculate: education through a thought-provoking master's degree program, offered at no cost to a group of K-12 teachers who can in turn use their deepened perspective to enrich students' lives.

An anonymous donor has provided teachers in the GRACE (Green Bay Area Catholic Education) school system the chance to apply for one of 19 fully-funded scholarships to the Master of Arts in Liberal Studies (M.L.S.) at St. Norbert College. The first cohort of five teachers began the GRACE Educator Master's Degree Path Program in the fall of 2022, completing two courses: Introduction to Liberal Studies, taught by Howard Ebert '74 (Theology & RS) and American Perspectives, taught by the Rev. James Neilson '88.

"M.L.S. is a very broad interdisciplinary approach," explains Ebert, who directs both the M.L.S. program and the college's Master of Theological Studies program. "The students are learning things from different angles and perspectives that they then can turn around and use in their classrooms almost immediately." Within a Catholic framework, GRACE teachers in the program have a chance to study areas not explored during their undergraduate teacher education, from philosophy, to art to the Socratic method.

The rich perspective the teacher/students are gaining is already being passed along to their students, says GRACE president Kimberly Desotell. "A program in liberal studies helps them understand the creative mindset needed to develop articulate thinkers who understand the world around them differently – who can look at the world from a global perspective." Desotell says the program is also helping the teachers deepen their understanding of metacognition and learning styles, which can help them encourage their students to take ownership of their learning.

Feedback so far from the GRACE teachers in the program is overwhelmingly positive. "The M.L.S. program allows us to grow as teachers, further our education, and model for our students the importance of lifelong learning," says middle-school teacher Abbie Withbroe. "I learned how accessible and powerful artwork can be. I've already added many of the photographs and paintings we looked at in class to slideshows I share with my students so they can better understand the history topic we're learning about. My middle school students have enjoyed the art pieces! It's neat for them to think critically and reflectively on how art and history connect."

"It's a gift that has immediate, if intangible, benefits," says Ebert, who shares these words of gratitude to the donor: "Thank you for your vision, and for recognizing that by continuing learning, they become better, more expansively educated teachers who can offer students a better range of perspectives."

Studying in the GRACE cohort alongside Withbroe are her teaching colleagues Kelly Gossen, Jennifer Kopp, Courtney Wedan (pictured above) and Amy Briski Muenster '10.

Jan. 18, 2023