ESL Protégés Flourish at St Norbert, Thanks to Friends on the Other Side of the World
For more than two decades, the English as a Second Language (ESL) Institute at St. Norbert College has provided an intensive, academic-based English program for students from as far afield as China, Tanzania, Mexico and the two most well-represented countries in the program, Japan and Saudi Arabia.
Thanks to referrals from two friends of the institute eager to compensate for the lack of provision in their home countries, ESL classes have now expanded to include students from Vietnam and Thailand.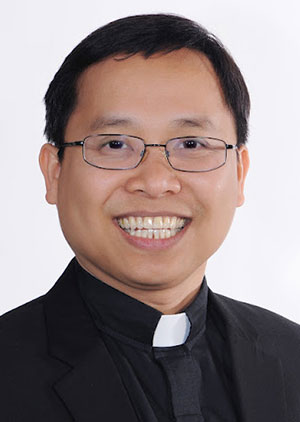 Father Bao Nguyen of Vietnam began supporting religious from his home country in the St. Norbert ESL program before he was ordained a Jesuit priest for the New Orleans Province of the Society of Jesus in 2012. He discovered the institute through the St. Norbert website. Since 2009, 12 sisters and one brother from religious orders in Vietnam have taken part in the ESL program. Following the completion of their English studies, they go on to pursue degrees at U.S. colleges and universities, says Nguyen – who is himself currently pursuing a Ph.D. in education at Boston College.
"Most of the sisters have pursued theology/religious studies and two sisters are working on the nursing program at Silver Lake College (in Manitowoc, Wis.)," he says. "One sister is doing the social work program at Boston College and the first one of the 12 sisters who studied at St. Norbert will start her Ph.D. program in spirituality in the fall semester."
The goal is for the sisters to return to Vietnam to serve. Due to Communist persecution and war devastation in the country, educated leaders in formation, theology and social services are needed.
"The government in Vietnam officially permitted the church to open the first Catholic university in Vietnam after 39 years," says Nguyen. "We are very excited to receive this news, but we are concerned about faculty and administrators for this apostolate in high education."
Sisters from Vietnam always arrive in pairs at St. Norbert, says
Christina Hankwitz
, director of the ESL Institute. They commonly spend two semesters at the college. Room and board is provided by the Sisters of Our Lady of Christian Charity in Green Bay.
"What's really neat is how the sisters interact with other students," says Hankwitz. "They sometimes take on a motherly role and provide little reminders of things."
Two sisters from Vietnam currently studying at St. Norbert will attend Aquinas College in Nashville, Tenn. Hankwitz says the sisters share their faith lives and culture with the St. Norbert community.
"Two of the sisters had vow renewal and we all attended," she says. "They had visitors from Chicago who brought spring rolls. We had Vietnamese food. It was just lovely. I'm grateful to be welcomed into that other part of their lives."
Nguyen says his challenge is to continue to find benefactors to help support the costs of the sisters' studies in the ESL program. He praises the value of the education: "It is not simply an ESL program, but an academic curriculum in which the sisters have been well prepared for research papers, comprehensive readings and substantial knowledge of American life."
Alum-run language school provides a valued new connection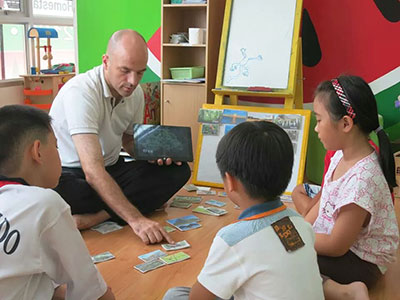 The ESL Institute welcomed its first Thai student this past spring through the referral of alum 
George Carroll '94
. Following technology-based positions with GTE, Boston College and Sony, Carroll, at the invitation of friends, moved to Bangkok. He began as a teacher in Thailand, but became frustrated with the lack of professional standards in schools, so he opened his own learning center.
"Most of my students are 2 to 6 years old, and I use a project-based teaching method that is effective and fun," he explains.
"I've actually had some students with me now for nearly 10 years. They've grown up here and it's pretty cool to see them getting ready for university."
ESL options are numerous for Thai students: They include programs in the U.S., New Zealand, Australia and the United Kingdom. However, many are "little more than glorified shopping tours," says Carroll.
"The students travel in large groups, stay in dorms together and mostly go sightseeing and shopping," he says. "I've had a few students of mine go on these trips and they rarely seem to benefit from them. They don't get a chance to talk to native speakers. The St. Norbert program is more academic and focuses on giving students the skills they need to succeed overseas at the university level. This is very attractive to students who are interested in pursuing a degree overseas, especially graduate degrees that require a high level of skill."
The student Carroll referred to the St. Norbert ESL program will be attending medical school in the fall. Carroll was recently contacted about St. Norbert by a woman who has her master's in architecture and wants to get her Ph.D. in the United States.
"In Thailand, the St. Norbert program seems to be attracting older students who wish to pursue academics at a high level," says Carroll. "These are students interested in professional careers in medicine, business or engineering."
Carroll adds that the students tend to be from upper-income families, so cost is not an issue. Convincing them to choose a program in northeast Wisconsin over a school in London or Sydney, for example, is more challenging.
Hankwitz hopes that the ESL Institute, which serves 40 to 70 students at one time, receives more referrals from Thailand.
"George and I have been talking about the potential of him sending us more students," she says. "He felt that he needed to take that first student so she could pass on her experience."
Aug. 5, 2014