Presidential Legacy Continues at Marian University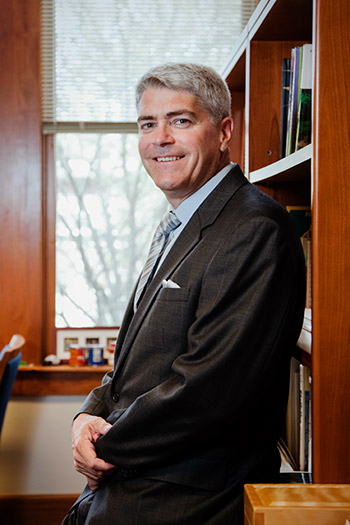 The Marian University Board of Trustees has appointed Andrew Manion '87 as the 16th president of the Catholic liberal arts university. Manion, who is expected to take office in March, is the son of St. Norbert President Emeritus Tom Manion and Maureen Manion (Political Science, Emerita). 

The new president-elect says, "My preparation for a college presidency began as an undergraduate at SNC, when I had the unusual opportunity to observe my own father in his role as president of the college. Watching SNC grow and develop during his tenure was my first exposure to how much impact an effective president can have on a college, as well as how much planning and work go into moving an institution forward. I have leaned on him for advice throughout my career in higher education and I will benefit from his wisdom and counsel as I assume the presidency at Marian University."
A career in higher education 
Andrew Manion has a Ph.D. in experimental psychology and a master of arts in psychology, both from Adelphi University. He majored in psychology as an undergraduate at St. Norbert, and is married to his St. Norbert classmate, Amy (Schlumpf) '87. He comes to Marian from his current position as vice president for finance at Aurora University in Illinois.
At Marian, he will succeed Robert Fale, who has been serving as interim president at the Fond du Lac, Wis., school since June 2013. 
Announcing the appointment, Eric Stone, immediate past-chair of the Marian University Board of Trustees and chair of the presidential search committee, said: "We are delighted to welcome Dr. Manion to Marian University. From the first time we met Andy, members of the search committee were impressed with the breadth of his experience, his values and his commitment to making Marian University the best possible version of itself.  
"He brings with him a deep understanding of the academic enterprise, having served at Aurora University in Aurora, Ill., for 17 years in a variety of roles, including vice president for student life, provost, a period as acting president and most recently as executive vice president. Prior to his time at Aurora, he served at St. Mary's University of Minnesota. This variety of experiences will serve him well at a time of ever-increasing change in American higher education." 
Accepting the new position, Manion said, "I am humbled and honored to have been chosen to succeed Bob Fale as Marian University's next president. I have admired the mission and vision of Marian for many years and look forward to working with faculty, staff and board of trustees on behalf of the students. Amy and I are thrilled to be joining Marian University and the community of Fond du Lac."
Manion is not the first Marian University president with a connection to St. Norbert College: His friend and mentor Matt Flanigan was a vice president at SNC before serving as president of Marian from 1989 to 1996. Manion says, "I am sorry that Matt is no longer with us to see me continue this legacy." 
Words of welcome and farewell
Tony Ahern, newly elected chair of the Marian board of trustees, underscored the significance of the new appointment for Marian: "Dr. Manion and his wife, Amy, will be great additions to the Fond du Lac community as well as to Marian University. The trustees look forward to working with Dr. Manion to take Marian to the next level of excellence. We believe that, under his student-focused leadership, the university will continue its legacy of excellence in providing a mission-driven values-based education." 
Rebecca Sherrick, president of Aurora University, paid tribute to Manion's service at the Illinois school: "For over 15 years, I've enjoyed the opportunity to work alongside Dr. Manion at Aurora University. So news of his new leadership role at Marian University is bittersweet. I have no doubt that members of the Sabre community will enjoy getting to know Dr. Manion and his family. I forecast only good things for Marian University in the years ahead with Dr. Manion at the helm."
Manion will be making his new home in Fond du Lac in company with Amy and their two sons, Jack and Kevin, and daughter Clare.  


Dec. 1, 2015