Treasure/Henry Sink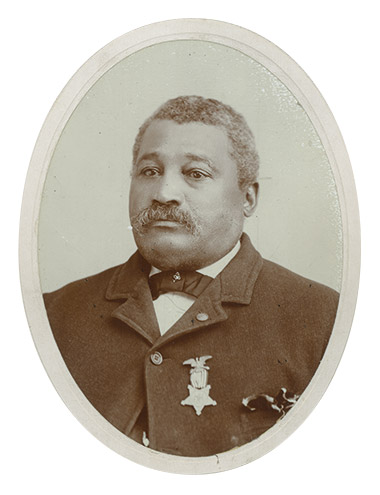 Every issue, we invite one member of the college community to shar etheri delight in an object found on campus. Here, Victoria Tashjian (History) speaks to a photograph of Henry Sink, a 1895 De Pere resident born into slavery. It reminds her of the depth and level of interest associated with historical research and study.
I first met Henry Sink in census data as a resident of De Pere in 1895. Born into slavery in Arkansas, he was in Wisconsin by the early 1860s and may have arrived as "contraband of war."

I have records of his military service, and of two marriages. In 1900, he purchased a De Pere home for $250 less than a half-mile away from where, by the 1940s, restrictive covenants barred African American home-ownership. There are tax records, and newspaper articles. I'm looking at slave schedules, and at records of the white Sink family.

He was shot through the elbow during the Siege of Petersburg. In his Civil War pension file, he initially signs by making his mark. Further on, he has the signature of somebody who is just learning to write. Seven years later, he's got the fluid signature of an experienced writer.

Having his portrait (taken for the local Grand Army of the Republic post) is fabulous! It is wonderful to be able to look at his face.

People sometimes think of historical research as dry. It's certainly not.
Victoria Tashjian, professor of history, joined the St. Norbert College faculty in 1992. Author of the books "I Will Not Eat Stone: A Women's History of Colonial Asante" (with Jean Allman) and The Greenwood Encyclopedia of Global Medieval Life and Culture: Africa, she has also presented papers and published articles and book chapters addressing gender and economic change in Asante; women's rights in Nigeria; and British colonial policy in West Africa. She is currently investigating African-American settlement in 19th-century northeast Wisconsin. Tashjian is the recipient of St. Norbert College's Donald B. King Distinguished Scholar Award and the Leonard Ledvina Award for Excellence in Teaching.


April 17, 2015