2015: A Landmark Year in College History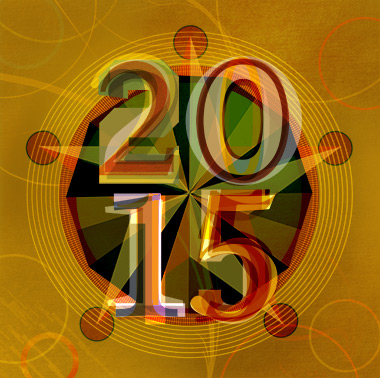 It's not hard to make a case for 2015 as the most significant year in the history of St. Norbert College – most significant, that is, since its founding in 1898. That's a large claim to be sure, but just mark your calendars, if you will, with these five dates to start with:

May 15 sees the formal opening of the Gehl-Mulva Science Center, a state-of-the-art facility designed to anticipate the needs in science education for the next 50 years or more.

July 1 medical students will walk this campus for the first time as they begin their studies at the newly launched MCW-Green Bay facility.

Aug. 17 St. Norbert's first MBA students take their seats in the first classes of this much anticipated post-graduate offering.

Sept. 26 will see the celebration of Campaign St. Norbert: Full Ahead, a successful fundraising initiative that rode out the challenging years following the economic downturn and looks set to surpass all hopes.

Fall 2015 begins the launch of the Donald J. Schneider School of Business & Economics – the first dedicated school on campus, operating under its own dean and making its place as a difference-maker throughout the business community. 

Any one of 2015's game-changing initiatives would be enough to see the year written up in the history books as a turning point in college history. Together they will reach far into our communities – communities of campus home, of region, of knowledge, of opportunity.

Before the year is out, our science faculty members will be enjoying labs and other amenities that are the envy of colleagues at much larger institutions; some of them will be facilitating courses for medical students; and there'll be more of them – to meet the burgeoning interest in the sciences among incoming classes.

In the social sciences, more professors will be teaching graduate as well as undergraduate classes; the school of business and economics will open up connections and opportunities in and for the larger community, too.

Our graduate students will have interesting company, and more of it. It's not hard to imagine that, for our undergraduates – always and by far the largest population on this residential campus – this synergy will be heady. The college air they breathe will still be Catholic, still be Norbertine, still be liberal arts. Still be cherished. And it will, dating from the events of the year 2015, be somewhat more charged.

In the spring of this watershed year, we searched among our own community for a few prophetic voices, well-placed to anticipate such a future.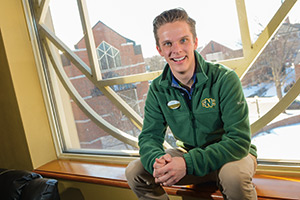 Business
The Donald J. Schneider School of Business & Economics will become the first dedicated school, with its own dean, on the St. Norbert campus, thanks to a $7 million donation from Pat Schneider, wife of the late Donald Schneider '57 – former president, CEO and chairman of Schneider National.
When: Launches in fall 2015.

Who: Economics major Quinlan Hillesheim '17 will have the opportunity to experience the benefits of the new school first-hand, and as a student employee in the office of admission he shares his excitement with others during tours provided to prospective students and their families.

How: "It's a matter of knowing that you are getting a quality education. Someone with that magnitude and that kind of power, that has their name on a corporation that large, wouldn't put their name on something that they don't believe in and don't know is the best of the best. Coming from St. Norbert now that they have a business school like this, I know that I'm getting one of the best educations in the Midwest."

Why: "You can start to see the ripple effect already, and I'm excited for it. What's the limit? The sky, honestly.

"As the MBA program gets up and running, and there's more and more interest, it will start to shed more light on our other graduate programs. With an advanced degree you get advanced thinking. As you start bringing business professionals, medical professionals to campus, I really like the feel it brings to the area – more cosmopolitan, more professional. I'm thinking big, honestly. Twenty, thirty, forty, fifty years down the road, I hope the Schneider School does a lot of good for the area – and I think it will.

"I think that, no matter how big St. Norbert gets in terms of reputation, influence, I think that we will always maintain the things we pride ourselves on: small learning environments; small classrooms. But I do think we will get bigger in terms of influence. I think that, as we get bigger, we will always remember to look back at where we began, and I think we will use that as a guideline to where we want to go."

Philanthropy
Campaign St. Norbert: Full Ahead is a successful fundraising initiative that has managed to buck economic trends on its way toward a $90 million goal, with plans of allocating that capital to five critical areas of need: financial aid, faculty support, student experience, new science center and the enhancement of existing facilities.

When: Celebration Sept. 26.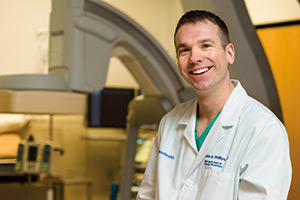 Who: Dr. John Phillips '98, a cardiologist, and his wife, Carolyn, made a five-year pledge of $25,000 in order to name The John A. Phillips '66 Family Study Room within the Gehl-Mulva Science Center after John's father and his family, many members of which have graduated from St. Norbert College.

How: "When you're in the giving state of mind you want to find something that touches you, and this all just kind of fell together for us and made sense. I specifically sought out a study room that was near a window because that was one of the pieces of advice that he [his father] gave me when I took off for college: 'Make sure you're in a quiet place. I always liked to be able to look out of a window; see how that works for you.'

"As you become older, you become appreciative for what you've been blessed with. There comes a time when you need to reflect and move away from being so egocentric and look towards the greater good.
Why: "St. Norbert is a small, liberal arts school with a fantastic reputation in the Midwest and abroad. Because it's small, and I think because of the heritage and the religious history, it breeds community, and it breeds the notion that one is put on this Earth for the greater good and that one can always do better. If you're going to build something that you believe in, you need to get all your pillars together to raise the roof, so to speak. It's a unified front to grow resources, and this [fundraising campaign] is a perfect example of that."
"In 50 years' time, the Gehl-Mulva will be a Midwest leader in undergraduate-led research. What these kinds of resources are going to allow for our students is the chance to succeed here, so that they can then springboard to the next step in their life, and this was an opportunity for us to be a small part in that. It's because of the personal touch we received that we felt comfortable making a contribution, and I think that's what hopefully sets St. Norbert and its giving campaign apart from others."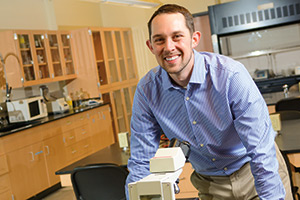 Science
The new 150,000-square-foot, state-of-the-art Gehl-Mulva Science Center will offer students and faculty the opportunity to teach, learn and conduct research on the leading edge of science, thanks in part to lead donors Paul O. and Carol H. Gehl, and James J. and Miriam B. Mulva '69. The Gehl-Mulva will also house the Medical College of Wisconsin's Green Bay campus.

When: Dedication May 15.

Who: Zachary Pratt (Biology), whose primary teaching focus is molecular biology, virology and microbiology, has already taken note of the facility's intelligent design, which includes added technology to enhance classroom learning, small group workrooms and laboratories. Study rooms and informal collaborative spaces located near faculty offices encourage added student/faculty interaction.

How: "What it allows us to do is to take some of those discussions out of our offices and now open them up and make them more inviting. I think it kind of reinforces that communio aspect of the college mission, bringing together the students and faculty to learn. It enhances that group work that is incredibly essential now for science. Nobody does work in isolation anymore; everything is group work. It allows us to reinforce that concept early on."

Why: "I think the relationship with the Medical College of Wisconsin (MCW) is going to be an important one to the college in the long run and may also allow us to start building collaborations with other local hospitals or health clinics around the area with some of the resources that MCW is bringing. I could even see some collaboration with local businesses that use science in their everyday lives.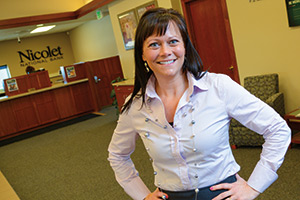 MBA
The Master of Business Administration (MBA) program, made possible through the donation from Pat Schneider, has its sights set on becoming the new hub of business intelligence within the northeast Wisconsin region and beyond.

When: Classes begin Aug. 17.

Who: Local bank manager Dana Bald '08 declared her intention to be the first applicant for the MBA program several years ago when she caught wind that the concept might reach fruition. The wife of St. Norbert athletics director Tim Bald hopes to be a member of the first cohort of students come fall semester.

How: "St. Norbert has always tried to be proactive and see what is needed in the community, what people are asking for, what their students are asking for, and how they can participate in that. I think that an MBA program is just a natural progression.

"The experience that I had at St. Norbert as an undergrad makes me all the more excited to come back for this MBA program because I know that the professors and the instructors and the speakers that are coming in are going to open up new ways of looking at things."

Why: "It is going to really be huge for our community to have people graduate from the program and have all these connections within the community, and hopefully be able to bring that back and make the Greater Green Bay area more productive and exciting and innovative. In 50 years' time, the SNC MBA program will have developed into a beacon that attracts motivated, talented, forward-thinking leaders in northeast Wisconsin and beyond. I expect that SNC will rightly earn a place at the top of the list when people think of exciting, respected MBA programs."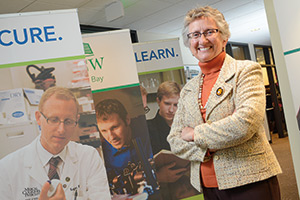 Medicine
The arrival of the Medical College of Wisconsin-Green Bay (MCW-Green Bay) will allow students to complete their medical school experience in one community and in just three years, by reducing the number of electives and the length of traditional breaks. The program will also help address the projections of physician shortages in the state over the course of the next 20 years through its partnerships forged with several area educational institutions and health care organizations. MCW-Green Bay's administration offices and classrooms will be housed within St. Norbert College's Gehl-Mulva Science Center.

When: Classes begin July 2015.

Who: Retired pediatrician Dr. Karen Camilli '68 is an alum of both St. Norbert College and the Medical College of Wisconsin who practiced at Beaumont Clinic (which merged into what has now become Prevea) and Bellin Health during her career. Her ties to four of the entities involved in the new partnership offer her a unique vantage point.

How: "The science building itself is a great boon to St. Norbert College and would draw students in and of itself if it wasn't for the Medical College. But having the Medical College and St. Norbert together will also draw students interested in science who may become interested in medicine and eventually in servicing our local community."

Why: "As the Medical College grows on St. Norbert's campus, St. Norbert will gain the reputation of being more of a national college with access to students throughout the country. I think the more resources we have available locally, the more likely we will be to attract doctors to come to our local communities. I think having a medical college here is going to not only increase the number of doctors but also increase the number of doctors who will stay."

And still more to come ...
While we're making history, life continues as usual on the St. Norbert campus. And "life as usual" at 100 Grant Street means continually breaking new ground.

Closing the gap. The first Gap Experience students arrived on campus this winter. Their J-term and spring semester classes followed a semester of adventure, travel, study and service. The program's second cohort begins its journey this fall.

Fine dining. As the year turned, the dining experience at St. Norbert College was ranked high in two separate listings that compare various features of colleges across the nation. Niche placed it in its Best Campus Food category along with others in the top 5 percent of its listings. Cappex placed the college 15th in its "Best College Food" ranking.

A human approach. This semester, the college hosted the first Human Library event to be held in Wisconsin. (Subscribers to @St. Norbert read about this event in their March issue.)

Top-listed. Even our younger alums are making headlines: among them Ian Klein '10, who made the Forbes 30 Under 30 list; and Dr. Oluyemisi Fowode-Adeyemi '04 – likely the youngest student ever to graduate from St. Norbert – who, as part of a Texas Children's Hospital team, successfully separated conjoined twins in a surgery that drew national attention.

Well-seeded. All four winter sports teams were nationally ranked this year.

Well-churched. Old St. Joe's came in at No. 18 in a list of the 50 Most Amazing College Chapels and Churches published by TheologyDegrees.com.

Moving in the finest society. The newly founded St. Norbert chapter of Phi Kappa Phi – the nation's oldest and most selective collegiate honor society for all academic disciplines – initiated its first inductees March 25.

Dry shod. The Green Knights play their first baseball and softball games at the newly renovated Mel Nicks Field this spring. The new facility includes the installation of a synthetic infield and better drainage in the outfield.

By the water. As construction on the Gehl-Mulva Science Center is completed, attention will turn to the new quad that the project has opened up, and the river walk onto which it gives.

Musically inclined. The Green Bay Youth Symphony Orchestra makes its new home at St. Norbert when it moves its base to campus on June 1.

Ready for visitors. St. Norbert College prepares to welcome the national Association for Student Affairs at Catholic Colleges & Universities conference, which will be hosted on campus in July 2016.


April 17, 2015