Alum's Business Battles Bird Flu
While the price of eggs in the grocery store may seem high to most, the cost is significantly higher for
William Rehm '83
, who, with his family and staff, recently had to euthanize 5 million egg-laying chickens due to the avian influenza virus, or bird flu.
Rehm, the president and CEO of Daybreak Foods Inc., based in Lake Mills, Wis., heads egg-laying operations in Wisconsin, Minnesota, Ohio and Iowa.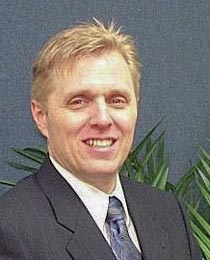 "The unfortunate part is, once [bird flu is] found on a farm, the entire farm has to be euthanized … depopulated, cleaned and then disinfected before we can start repopulating again. That's the difficult part. Perfectly healthy hens need to be euthanized just because a few hens on the farm caught the virus," says Rehm (pictured, left). It's been a difficult and emotional process for his family and his employees.
"Our family has been in the egg production business since the early 1900s. This is the first time we've ever had anything of this magnitude hit any of our facilities," he says. One complex in Wisconsin and two in Iowa were hit with the virus.
The H5N2 avian flu virus is carried and spread by wild birds. All migratory birds carry the disease, but it doesn't harm them. When they land somewhere, they shed their dander and that dander contains the virus. 
Historically, Rehm says, the only way the virus could enter barns was through foot traffic that picked up the virus from where migratory birds had landed. "We have a really extensive biosecurity protocol for human traffic, tools and things that enter and leave the facility to prevent any virus from entering the barn. What we've discovered is that the virus now has become airborne. The wind current is picking it up and blowing it around, and we're actually sucking it into our buildings inadvertently through our ventilation process."
Rehm says that because the facilities use a lot of water, they naturally have large wastewater lagoons. Those lagoons are magnets to migrating waterfowl, so the best way to prevent the disease is to keep migrating birds from landing in their ponds. He's been working with local, state and federal authorities to develop protocols to deter migratory birds from landing on their facilities. "We'll bolster our biosecurity on the ground," he says, "but add to it kind of an environmental form of biosecurity, filtering the air, ionizing the air as it enters our barns for ventilation." 
While the cost of a dozen eggs in the grocery store has doubled for the consumer, it's hit Rehm and his family and stakeholders much harder.
"Insurance won't cover this kind of loss," says Rehm. "The federal government will indemnify us for the value of the chickens, and the cleaning and disinfecting of the facility. But our facility in Wisconsin has been down since the middle of April. We probably won't start any egg production out of there until maybe the last quarter of this calendar year, and at a very low rate." It will not be until five or six months after Daybreak is given the green light to repopulate that they will see any egg production. That means lost income for nearly a year.
The virus isn't known to spread to humans or expected to pose a risk to public health or the food supply. 
"We're committed to the welfare of not only our stakeholders who work with the hens every day, but to have a safe environment for our hens to produce eggs," says Rehm. "We go through great lengths every day to produce a wholesome and affordable product for consumers to eat. Right now, it's a hard time mentally and physically for everyone at Daybreak; our whole Daybreak family is hurting.
"At the end of this, Daybreak is going to be fine. We're going to come out of the end of the tunnel bigger, stronger, better for this. And learn from it. … We'll be able to put ourselves in a far better position to prevent this from ever happening again."
July 7, 2015