Alum Appointment Caps CEL's First Year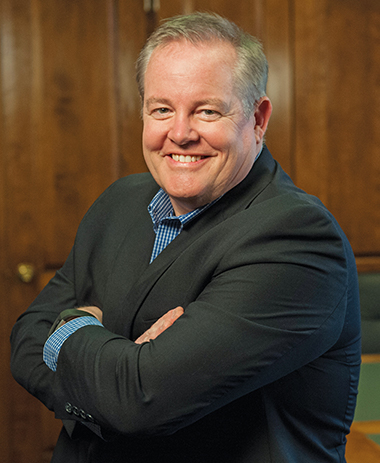 It's a homecoming of sorts for regional education and economic development leader Dean Stewart '88, whose arrival at the Center for Exceptional Leadership caps a year of successes for this new initiative at his alma mater. Stewart takes the helm from founder Tom Wiltzius, who stepped down from his voluntary role at the end of last year.
 "I feel like I have come home and now am able to give back to the institution that has been so good to me and my entire family," Stewart says.
While the CEL is a relatively young program, it already plays a vital role in developing business leaders throughout northeast Wisconsin, says Dave Wegge (Schneider School). The leadership center, housed within the Schneider School, has two development tracks: one for emerging leaders and the other for senior leaders already occupying C-Suite offices. The first three cohorts to benefit from its training graduate this March.
Wiltzius and his staff worked closely with local experts in creating a curriculum that offers a highly individualized program of assessment, planning, development, coaching and mentorship focused on building confident, visionary champions of an organization's mission. The center emphasizes character and principals to create leaders who will drive sustainable success for their organization, its people and their community.
"We received a lot of positive feedback from participants as well as from the supervisors of those who have gone through the emerging leaders program," Wegge says. "They have noted a difference in their employees."
Stewart says, "The college is a recognized leader in delivering high quality, innovative business programming, and the CEL is uniquely positioned to support the development of confident, visionary executives around the country. My goal is to help build, and then ultimately sustain the center as the go-to solution for organizations and individuals looking for world-class leadership development."
Stewart comes aboard from Northeast Wisconsin Technical College, where he was dean of corporate training and economic development. While there, he led multiple business units that included adult continuing education and professional development, the center for entrepreneurship and small business initiative, and economic development and strategic partnerships. A committee member for Global New North, he serves on the board of directors for Bay Area Workforce Development, Brown County United Way, and the Green Bay Area Boys & Girls Club. 
"We wanted someone who not only had great leadership experience, which Dean has from his time at NWTC, but we also wanted someone with deep community connections," Wegge says. As an alum, Stewart also understands the college's culture and its Norbertine tradition. "He has all the right skill sets."


March 20, 2018