Alums Turn National Advocates on Issues That Touch Their Own Lives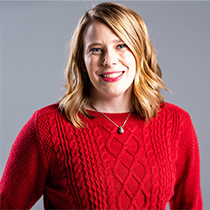 When a new issue of St. Norbert College Magazine lands in your mailbox, it delivers only part of the story. The online issue at snc.edu/magazine adds videos, photo galleries and more stories. Here's a sampling of the online exclusives in our Spring 2020 issue, out last week.

In perspective
As a college athlete, Molly Schroeder '13 would never have imagined herself having a heart attack at age 21. She was young, in great shape, and about to play an important soccer game. But after returning from a 2-mile run before soccer practice, she knew something was wrong.
Schroeder's brush with heart disease was unexpected at the time, but she was one of the lucky ones. Able to recover with medication within just a few months, she has gone on to share her message of prevention across local and national platforms.

For Jenny Scherer '10, her running milestones quickly turned into a professional career. Pushing hard resulted in positive gains, and soon she was on her way to training for national events. Eventually she began to sustain injuries, and a teammate calling her out on some unhealthy habits was the wake-up call she needed. Now, Scherer works as a student-athlete specialist at the University of Cincinnati, where she encourages and mentors students through the same potential pitfalls.

Both women have found national forums for advocacy. Read their stories.

In pursuit of fashion
How deadly is your clothing life? Take our closet quiz to find out!

In quest of loveliness
Ready to live on the edge? Check out the class on Beauty & Death taught by April Beiswenger (Theatre Studies): "How humans have tried to kill ourselves and others chasing fahionability." Take the class.

In its first season
As SNC launched its 12th men's sport, our cameras were there. Watch the video.

In snowy weather
As the seasons transition, we say farewell for now to winter fun on campus. Enjoy our photo gallery.

March 23, 2020