With a Little Help From Their Friends
Jessica Steffens '23 (above with canine chum Fleesh) and her Pause for Paws associates turned old fleece, T-shirts and denim into 80 dog toys for pups at a local shelter. It was a feel-good activity all around, as Steffens explains in a recent Humans of St. Norbert post on the college Facebook page. "When I was a freshman, I was very homesick," says Steffens. "I had been used to always having a dog in my life so not having one around definitely changed my mood. Pause for Paws is a student organization [I helped start] on campus that focuses around volunteering at animal shelters and supporting students that deal with homesickness. … That one-on-one interaction with the dogs from the shelter does a lot for our members in pulling out happy emotions."

SNC students get by with a little help from their friends: Here's a roundup of some of the recent news on friendship, drawn from the college's social media, press releases or on other platforms since our last issue.

Making friends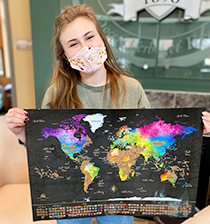 Emily Dehmer '21 knows SNC friends are there to be counted on, but they don't make up the whole world. She's on a quest to receive mail from every country in the world. So far, she's at 87. Know anyone in Tajikistan, Timor-Leste, Tonga, Turkmenistan or Tuvalu? Dehmer (pictured) would like to hear from you!

Connor Voelker '24 turned his first year of college basketball into an award-winning season without playing one game. Voelker wants to be a sports broadcaster one day, so he took advantage of the extra time by going home to Kiel, Wis., to do play-by-play for what turned out to be close to 50 girls and boys basketball games at his high-school alma mater. He made a lot of people happy in the process, and also had the chance to talk with CBS Sports play-by-play announcer Kevin Harlan.

Clay Larson '21 has found new classmates, virtually, and a continent away. The senior planned on studying in Ecuador, but the COVID-19 pandemic forced him to change plans. Instead, he's been learning Spanish through a class at Universidad San Francisco De Quito. Gail Gilbert (Study Abroad) shares why it's important for students to find a way to get to know people from different cultures.

Fellowship makes all the difference
Luke Davison '21 is learning, hockey isn't just a team sport on the ice. In his journey with cancer, his teammates have rallied round him – and so has an NHL Hall of Famer. The defenseman has been sharing how he's been able to count on many people since his diagnosis last month.

Seela Raj '23 has been named a 2021-22 Newman Civic Fellow by Campus Compact, a national coalition of more than 1,000 colleges and universities dedicated to campus-based civic engagement. Raj is one of 212 students from 39 states who this year were named to the fellowship, which recognizes and supports community-committed students who are changemakers and public problem-solvers. The yearlong program includes opportunities as part of a national network of engaged student leaders.

April 27, 2021