Two Times Over: Pole Vault Record Falls … Falls Twice, and Falls Again
St. Norbert College women's track and field student-athletes are making up for lost time. Following the cancelation of the 2020 outdoor season and 2021 indoor season due to COVID-19, the Green Knights are not only back competing this spring, but also breaking records.

Pole vaulters Sara DeGroot '22 and Grace Kowalkowski '23 (above) added their names to the record books on March 27 at the Carroll University Invitational in Waukesha, Wis. They both matched a school record height of 11 feet 3 ¾ inches (3.45 meters). The duo tied for the top spot in the event, helping St. Norbert to the team title.

"It was really special to achieve the school record together," says DeGroot, who started vaulting her first year in high school. "The team dynamic is super important to my individual success. Grace helps to push me to do my best and also supports me when I have a rough time. We both want to do well and it is a great feeling when we can accomplish our goals together."

"Having Sara by my side, not only at every meet, but at practice as well has definitely impacted me in a positive way," says Kowalkowski, who was introduced to the pole vault in middle school. "There is some sort of competition aspect between the two of us, but at the end of the day we want nothing but success for one another."

Nearly three weeks later, Kowalkowski broke the shared record when she cleared 12 feet 2 ½ inches (3.72 meters) at the Beloit College Triangular. The height was the second-best vault in NCAA Division III outdoor competition this season and earned her Midwest Conference Women's Field Athlete of the Week honors.

"I do not have a specific target mark in mind," says Kowalkowski about her goals. "Instead, I hope to get over 12 feet more consistently."

"My goals for the season are to keep improving and take advantage of every opportunity I get to improve," says DeGroot. "My target height for this season is 12 feet."

A second St. Norbert field record fell in Beloit. Emma Sweere '21 broke the 18-year-old hammer throw record with a toss of 150 feet and nine inches (45.95 meters), five inches more than the mark set by Erin Jenewein '03. The record was a goal for Sweere, pictured.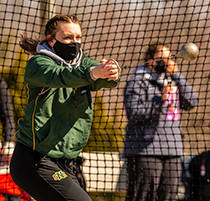 "The week prior to breaking the record I threw a mark that was only 1.5 meters off the record. So I knew I was close and it was possible for me to break the record," she says.

"My next goal would be to break my new record by throwing over 46 meters," adds Sweere. "Ultimately, I would like to shoot for roughly 47 meters."

"She could definitely break her own record yet this season. There is still more there," says Hannah Kruse '18, a one-time teammate and currently assistant coach for the Green Knights. "At this point in her hammer career it's all about confidence and little tweaks. Speed in the ring will be the biggest key to beating her own record. That and maybe her ritual of doing TikTok dances between throws to keep her loose and relaxed."

The hammer throw is not a high-school field event in Wisconsin, so Sweere didn't start until she arrived at St. Norbert.

"I did not want to throw the hammer. I wanted to focus on shot put and discus," she says. "During indoor, we throw a similar event called the weight throw, which has the same footwork and technique as the hammer throw. I really enjoyed that event and was [then] looking forward to the hammer throw, which has a lighter implement than the weight throw. The hammer throw clicked pretty quickly for me."

"The hammer record had always been kind of elusive," says Kruse. "It had been up there since 2003, so [the throws coaches] all had that as a goal and that was instilled in [Sweere] from the start. I'd like to take some credit as a teammate and coach, but it really was all her. She took everything in stride, set out goals and then went after them."

April 27, 2021