In Honor
St. Norbert College annually honors alumni who exemplify Norbertine ideals in their daily lives. We celebrate and draw inspiration from the storied lives of the recipients of this year's Alumni Awards:

Holly (Nickerson) Lynn '15
Young Alumni Award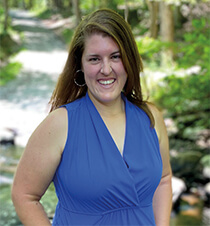 The war in Ukraine hits closer to home for Holly (Nickerson) Lynn than for most Americans. Holly (Nickerson) Lynn '15 has spent the better part of her adult life supporting Ukrainian residents either in person as a member of the Peace Corps or remotely from stateside locations. She credits her community commitment to her undergraduate experiences with communio.

Holly initially planned to serve Ukraine as a youth development volunteer through the Peace Corps upon her graduation. However, Russia's invasion of Donbass and Crimea in 2014 put those plans on hold. In the interim, Holly dedicated her efforts to several nonprofits in northwestern Wisconsin before returning to the Green Bay area as a youth development specialist and volunteer development coordinator for the Greater Green Bay YMCA.

In 2017, the situation in Ukraine had stabilized to the point where Holly could fulfill her dream of Peace Corps service. After three months of training, she was placed in a small village in the western part of the country, where she helped create adventure- and therapybased sessions at a camp for children who came from unstable home lives.

Holly's next stop was at a regional center in Western Ukraine, where she worked with the director for The Administration of Education, Youth and Sports. She went from school to school, teaching a variety of techniques for English teachers and school administrators. She also led youth and adult English lessons, and co-directed four nationwide leadership-based camps with her Ukrainian counterparts.

The COVID outbreak in March of 2020 led to a return to the U.S., where Holly then focused on completing an accelerated graduate program in nonprofit leadership at the University of Pennsylvania. Soon afterward, she took a position at Princeton-Blairstown Center, a New Jersey-based nonprofit affiliated with Princeton University that provides adventure-based, experiential education to historically marginalized youth.

Holly says youth development work fulfills, sustains, challenges and inspires her, and she is grateful for the strong support she enjoyed from the St. Norbert community in forging her own path toward this vocation.

Early in 2022, Holly joined forces with other Returned Peace Corps Volunteers to mobilize information, transportation and donations for individuals and families in Ukraine who needed support in and beyond the war-torn country. A donation drive through Amazon amassed more than 1,000 donors and tens of thousands of items. Today the team has a new focus: compiling individual first aid kits for direct delivery to Ukraine on passenger flights.

For her embodiment of communio and deep commitment to community building, we are pleased to honor Holly Lynn with the Young Alumni Award.

Brian Blaha '96
Distinguished Achievement Award in Business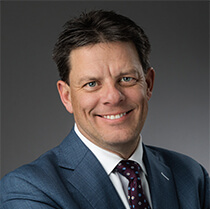 Brian Blaha '96 uses the term "intrapreneurism" to describe his journey from entry-level auditor at Wipfli to founder of the accounting firm's Chicago office, and eventually to chief growth officer for the now-global firm. It is an approach that had its genesis at St. Norbert College, where he learned to view the world through a holistic lens and open his mind to endless opportunities.

Brian's early career focused on financial-institution clients, and he quickly became an expert in the industry. Wipfli leadership soon called upon him to help launch or develop various aspects of its consulting and advisory services. They thought so highly of him that they tasked him with creating a Chicago office from the ground up.

Brian honed his skills over the next five years while growing a business presence in a market where neither he nor Wipfli were known. The entrepreneurial spirit required for such a venture, within a supportive, larger organization, is what evolved into his vision of intrapreneurism. The Chicago initiative has since grown from one man to more than 350 associates generating over $70 million in annual revenue.

Brian was elected to a three-year term on the Wipfli board of directors in 2013, during which he played a key role in writing the company's strategic and growth plans. Wipfli now has offices in 17 states and the District of Columbia, as well as four offices in India and the Philippines. Brian was asked in 2016 to assume the newly created role of chief growth officer, which he continues to hold today. Total revenue for Wipfli has grown since then from $180 million to $515 million.

Giving back is a major priority for Brian, both professionally and in his local community. He serves on the board for the Illinois CPA Society and was a founding member of the Major Firms Growth Council, a collaborative forum for growth leaders in major firms.

Brian and his wife, Jill, who also is a St. Norbert grad, have been actively involved in their children's lives as volunteer coaches and mentors for various activities. They are committed to supporting Catholic education and parish life in a number of capacities. Brian has served as school board president and parish finance committee member at the high school, and is currently its Father's Club treasurer and a board member. He also serves on the board of trustees at Elmhurst University.

Brian credits the curiosity for learning fostered at St. Norbert College for his consistent growth academically, religiously and socially. We are pleased and proud to honor Brian Blaha with the Distinguished Achievement Award in Business.

Kristi (Konkol) Ross '90
Distinguished Achievement Award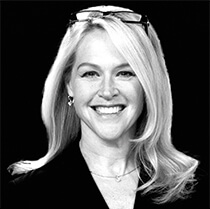 Kristi (Konkol) Ross '90 has always enjoyed the adrenalin rush that comes from being in the game. She has made a career out of thriving under pressure, whether that was as a member of the St. Norbert College volleyball team, or professionally in the midst of mergers and acquisitions, entrepreneurial pursuits or technology development.

Kristi focused on business, accounting and finance during her early years in public accounting, with the goal of identifying a career that would reward her skills. Kristi's desire to fashion her own destiny — a mindset sharpened during her competitive career at St. Norbert — provided the motivation needed to flourish at the highest levels of business.

The exposure Kristi received to a variety of industries ultimately introduced her to the world of financial markets and trading. The sheer magnitude of money changing hands on any given day generated a level of energy she hadn't seen in any other industry. Kristi knew this is where her professional career needed to be.

After being named chief financial officer of a company at the age of 25, Kristi next became CFO of the second-largest stock specialist firm on the Chicago Stock Exchange floor. From there, she became CFO of an online brokerage firm specializing in derivatives.

Her professional journey continued through 40 mergers, acquisitions, capital raises and startups before culminating as co-CEO and co-founder of an online financial media company and brokerage firm. That company sold in 2021 for more than $1 billion.

Empowerment is at the core of everything Kristi touches, from a family that includes a husband and three daughters, to her support of employees and business associates, to helping customers take control of their investments and inspiring entrepreneurs with dreams of their own.

Kristi's personal philosophy is built on four convictions: that opportunity is everywhere, but it's up to you to take action; that the most rewarding career is one that inspired you to make a difference; that relationships and human connections matter; and that attitude is everything.

Kristi Ross is an extraordinary example of how a willingness to take risks and push beyond your comfort zone can create opportunities beyond your wildest imagination. It is in this spirit that we are pleased to honor Kristi with the Distinguished Achievement Award in Business.

Daniel Groves '89
Alma Mater Award (posthumous)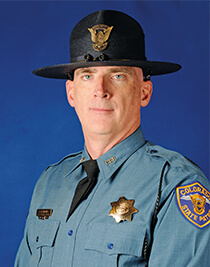 Daniel Groves '89 demonstrated his deep desire to live a life of service upon graduating from St. Norbert College in 1989, when he embarked on further studies to become a religious brother. The Chicago-area native taught briefly at a Catholic school in New York City before deciding that his true calling lay elsewhere, and he returned to Chicago. He then landed a job in the technology sector, maintaining his passion for community involvement service to others through charity work and church involvement.

Some 15 years later, Dan's desire to do even more for the community led him to pursue a career in law enforcement. He was accepted into the Chicago Police Academy, only to suffer an injury in training that cost him his slot on the force. Other departments in the region were hesitant to take on a new recruit at the age of 40; undaunted, Dan looked outside the area and eventually moved west to join the Colorado State Patrol. Dan found his calling with the State Patrol, enthusiastically serving in a number of roles before being promoted to corporal and assigned to Weld County.

Dan and his fellow officers had their hands full the morning of March 13, 2019, as severe winter weather moved in. Now a 12-year veteran, Dan knew conditions would be deteriorating quickly and headed out to monitor traffic on I-76 in the southern portion of the vast county.

It wasn't long before Dan stopped to assist a driver who had slid off the highway near the small town of Roggen. While attending to the disabled vehicle, Dan was struck by another driver who lost control of his car in the blizzard conditions. Several people stopped to help, some acting heroically in an effort to save Dan's life. However, his injuries proved too severe, and Dan passed away at the age of 52.

Colorado State Patrol Chief Colonel Matthew Packard said Dan "died doing what he loved. And I'm willing to bet he knew the risk of being out of his car that day. He knew what was at stake when he went out to I-76 that morning. He was out there to save lives."

Dan's life exemplified the Norbertine values of service to community and caring for those in need. It is with deep gratitude that we posthumously honor Corporal Daniel Groves with the Alma Mater Award, and convey our appreciation for his public service.

Oct. 31, 2022