Have Love, Will Travel
Ann Tollaksen '66 did not expect to run a deer park and petting zoo. She's allergic to most animals. "I had eight years of shots and I'm still scared to pet the deer myself," she says. In college, she was into rock 'n' roll and the bright lights. A French major, she was eager to travel after graduation, first stop: Paris.

Her time at SNC was memorable but being among the first classes of women had its challenges: "Your sorority house was where you had fun. I wanted to do a sociology major, but once I got into it, I didn't like it and switched back to French. I was frustrated by the choice of careers for girls then – it was teaching or being a secretary – and thought if I could just go to France and speak French, I'd know what I wanted to do."

Waitressing in Wisconsin Dells the summer before junior year, she met Peter Tollaksen on a river beach and replaced dreams of the Left Bank for married life. "We met in June and decided to get married by August. Peter had had an honorable discharge from the army and went back to school in Stevens Point, and I went back to finish at St Norbert. I did my last French course by correspondence," she says.

In 1970, the couple took over the family business, Wisconsin Deer Park, founded by Peter's father in 1952. They raised three children in a house built by her father-inlaw inside the deer park.

"We were the caretakers; we were there day and night. It was perfect for a young family. I had the luxury of being a stay-at-home mom in a beautiful place, with Peter working close by. I worked on the business side. I set up and ran our gift shop. …

"Traveling was hard for us for a while – those animals don't go anywhere. We took the children to Florida in winter when the park was closed. Later, Peter and I traveled all over the U.S. and everywhere we went we would check out the petting zoos. I finally got to Paris for a day many years later, when we were on a cruise. I knew how to ask where the bathrooms were, but I was scared to get it wrong."

Her husband died in the early days of the pandemic in March 2020. Their middle son Aaron now runs the park, and Ann lives only a short drive away. "I'm still the boss, but I'm not among the visitors all the time. I'd like to travel more now. Go back to France and speak French.
---
Year of Deer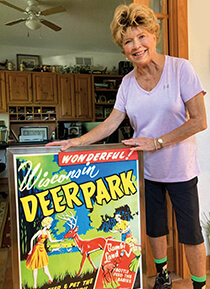 "We're always busy," says Ann Tollaksen '66."We stay open until the end of October. … We have preschoolers with their grandparents, and honeymooners for the fall colors. In September the deers' antlers shed. It looks bloody but it doesn't hurt them. We have elk too, and their antlers are enormous. It doesn't hurt to cut them, it's like a fingernail. They go into pens for the winter, and the prize bucks breed the does.

"My favorite season is in May and June when the fawns come. That is just wonderful." 

Wisconsin Deer Park is open from late April to late October. More at wisdeerpark.com.


Oct. 31, 2022