"John McGivern's Main Streets" on Campus
Early June saw John McGivern and his "Main Streets" film crew on the St. Norbert campus. The TV presenter, of the popular Milwaukee PBS program "Around the Corner with John McGivern" spent three days in De Pere filming and reporting on the city.

While some know McGivern for his role in the film "The Princess Diaries," he's most closely associated with the popular Milwaukee PBS program "Around the Corner with John McGivern," where the Milwaukee native highlighted cities across Wisconsin. He has since expanded his reach beyond Wisconsin to host "Main Streets," a series that sheds light on hidden gems in towns and cities across the Midwest.
The first season of "Main Streets" featured 13 Midwest towns, three in Wisconsin. De Pere gets its own episode in the show's second season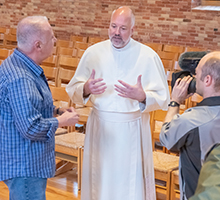 .

In pre-production for the De Pere episode, McGivern's crew reached out to the college as a priority; you can't talk about the city without talking about the college. The crew also visited St. Norbert Abbey.

McGivern (pictured) met with Father Jim Baraniak '88 at Old St. Joe's to discuss the Norbertines and their mission in founding St. Norbert College, the only Norbertine institute of higher education in the world. Then the crew crossed campus to Ruth's Marketplace, meeting with executive chef Josh Swanson (Dining Servics) to talk about the highly ranked food program at the college. Students and alumni will recognize the popular dish the pair are making during the interview: It's the Mongolian stir-fry.

When the De Pere episode of "Main Streets" airs in February 2023, those familiar with the campus and its neighborhood will recognize other iconic De Pere locations. McGivern and his crew stopped by the Union Hotel, Seroogy's, Luna Coffee Roastery and more.
Mainstreets.tv offers more information about "Main Streets" and the channels that carry it. 

June 22, 2022