Green Knights Make Their Mark
St. Norbert swept both men's and women's All-Sports Awards championships its first year in the Northern Athletics Collegiate Conference (NACC). The Green Knights won seven NACC titles in 2021-22, coming in men's soccer, women's cross country, men's basketball, men's and women's indoor track and field, and men's and women's outdoor track and field. St. Norbert had three other top-four finishes in the NACC, while its four sports that compete in other conferences – men's and women's hockey and men's and women's swimming – all had top-three finishes.
St. Norbert wrapped up its first NACC championship on Oct. 20 when men's soccer gained a 1-0 win over Milwaukee School of Engineering (MSOE) at Schneider Stadium. The Green Knights narrowly missed an NCAA Tournament berth when it fell in a shootout in the NACC Tournament championship game.
The Green Knights gained their second championship when women's cross country ran to a 16-point win over Edgewood College on Oct. 30. Joyana Tarsa '22 claimed the individual championship in the 6,000-meter race.
St. Norbert men's basketball clinched their 10th conference title of the last 13 years when the team earned a share of the NACC crown with its 74-49 win on Feb. 16 at MSOE. It was a victory that also gave Coach Gary Grzesk the most men's basketball wins in school history.
Men's and women's track and field accounted for the other four NACC championships. Women's track and field dominated both championships, winning by more than 100 points at the indoor championship and by a whopping 158 points at the outdoor meet. The Green Knights won seven indoor and eight outdoor event championships on the women's side, en route to winning their overall 13th indoor and 12th outdoor conference team titles. Men's track and field had pulsating finishes to capture both the indoor and outdoor championships. St. Norbert won its first-ever indoor conference title when it clipped MSOE by one-half point in the team standings. At the outdoor championship, St. Norbert held a one-point lead going into the final event and held off MSOE again in the 4x400-meter relay to sew up its second outdoor championship with a five-point win. The Green Knights had three indoor and two outdoor event titles.
Women's basketball finished as NACC runner-up while going 19-8, and advanced to the championship game of the NACC Tournament. Women's golf's second-place finish at the NACC Championship matched a program high.
---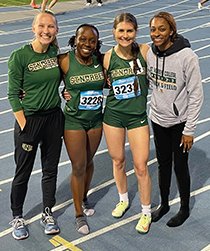 Team Work
Green Knight runners made Division III history this spring when they turned in, unofficially, the best time ever run by a Division III 4x200- meter relay team. The record-breaking win came at the 112th Drake Relays held at the Iowa university this May.
Running against mostly Division I competition, the quartet of Maddie LeBrun '22, Audrey Makope '22, Daijah Brown '22 and Sydney Zima '22 finished fifth in the event, logging a time of 1:40.05. The previous standard on record was 1:40.40 set on April 25, 2018 by Nebraska Wesleyan University. The time also erased a 32-year-old St. Norbert record by more than seven seconds.

June 30, 2022