Sibling Peacebuilders Honored
This year, for the first time ever, the prestigious St. Norbert Ambassador of Peace Award will be shared by three honorees. Bob Pyne (Miller Center), who chairs the selection committee, explains how the generosity of one peacemaker led to the recognition of a family's multiple efforts in the name of peace. 

Last spring, Connor Romenesko '15, one of my interns at the Norman Miller Center for Peace, Justice & Public Understanding, nominated the Rev. Dr. Jack MacCarthy, O.Praem., '67 for this year's St. Norbert Ambassador of Peace Award. Our selection committee enthusiastically affirmed the choice. The award honors an individual who has been an influential advocate for sustainable peace in our world, and that Father Jack has certainly been. A physician and a Norbertine, he has served faithfully for decades at a jungle hospital in Peru, 180 miles from the nearest road. Healing the sick and advocating for the poor, he clearly exemplifies the qualities of a peacebuilder, and we were delighted to invite him to receive the award.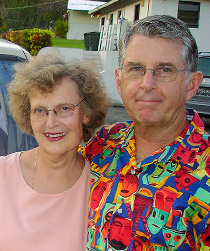 Father Jack's response made us appreciate him even more. By email, he thanked us for the honor, but humbly suggested that we give it instead to his older brother Chuck and Chuck's wife, Peggy. Founders of the Good News Project, for the last 30 years Chuck and Peggy have provided humanitarian support to communities in the West Indies and medical equipment to families in north central Wisconsin – work in which Father Jack has himself been involved when political circumstances have driven him away from his work in Peru. They have mobilized hundreds of short-term volunteers, many of them students from St. Norbert College. (In fact, Connor was one of those volunteers, serving with Chuck and Peggy in St. Lucia.) Rather than choose between the MacCarthys, could we recognize all three of them with this year's award? This would be a first, but it sounded like a great idea to us and Father Jack was enthusiastic, too. 

As part of our assessment of student initiatives, we often track their combined hours of service. With the MacCarthy family, we would have to track years, or perhaps decades. Father Jack, Chuck and Peggy have given their entire adult lives to transforming communities and helping those in need. 
I meet lots of people who are deeply involved in peacebuilding. They work to establish the community relationships and infrastructure required for sustainable peace, often in post-conflict or severely underdeveloped regions. Peacebuilding calls for "all hands on deck." When communities need everything in order to flourish, every person's contribution is vital. But such work is arduous, often requiring an unusual measure of perseverance. I asked Father Jack how he has been able to stay with it for so long. 

One story captured the nature of his ministry. Early in his work at Santa Clotilde, he said, he saved the life of a young girl. Years later he officiated at her wedding, and later still, delivered her babies. Now those kids greet him in the street, and he said, "That really feels good." 

Chuck and Peggy have the same kinds of stories, and that is why we are so glad to honor all three MacCarthys. 


Nov. 19, 2013