People Matter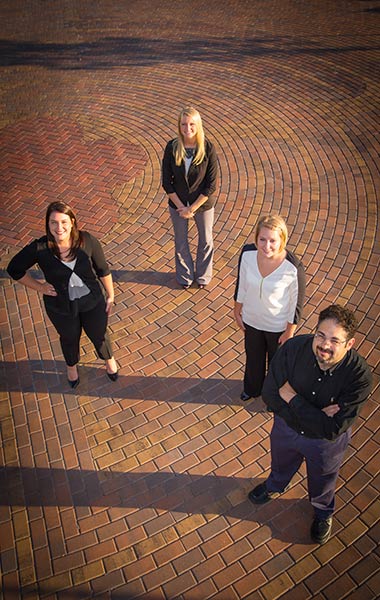 From time to time, we're reminded of it in ways both simple and profound. For some, the insight occurs when a call center employee finally puts an end to all the needless transfers and resolves your issue. For others, the understanding settles in when remembering that teacher who, way back when, inspired your own career path. Or maybe it hits you during the holiday season while watching George Bailey realize that a seemingly ordinary life spent raising a family and working at the Bedford Falls' Building & Loan has, in fact, touched countless others in a wonderful way. 

People matter, plain and simple. 

And regardless of the leaps and bounds made over the years in machinery, technology and automated processes, peel back the surface and it becomes clear that people remain the building blocks, the substance, the matter that constitutes the essence of just about any business or organization.

We are still the ones shaking hands, making decisions and dreaming up the ideas that shape the landscape of not only the business world but our entire existence. We are still the ones who can change the trajectory of another's day or month or entire life with a single well-placed comment, thoughtful action or meticulously handled procedure. 

Yes, we do tend to have these occasional moments of revelation when we remember all over again just how important people really are, but it's human-resource professionals in particular who maintain an ongoing appreciation for the unparalleled power people hold within an organizational context. 

Finding a fit 
Students who study human resources at St. Norbert College tend to gain a particular perspective on their field by virtue of the college's heritage, says Matt Stollak (Business Administration). 

"The thing that gets students interested, and is most unique to the St. Norbert College mission and values, is the notion of helping individuals find vocation," he says. Because this is so central to the college's Norbertine tradition, Stollak has noticed that students tend to not only find their own career path but also help others develop their skills and careers within an organization. 

Kaila Haen '14, who plans to graduate in December with a major in business administration and a concentration in human resource management, exemplifies this notion of discovering vocation and paying it forward. Once an accounting major, Haen began to sense that the discipline wasn't the best fit for her and later experienced an awakening during an interview for an internship. "The whole time I would have given anything to be on the other side of the table," she says, which led her to an exploration of all things HR.

It was a journey that included discussion with Stollak, in his role as the faculty member with primary responsibility for teaching in the HR concentration, as well as coursework and involvement in the student chapter of the Society for Human Resource Management (SHRM), all of which informed Haen's outlook on the field.

"I believe that employees are the biggest asset of a company," she says, explaining the importance of recruiting outstanding talent, implementing the training and development of that talent, and creating ways to keep employees satisfied in order to retain the very best. 

As she enters her final semester of studies, Haen knows that she is particularly interested in the recruiting and onboarding areas of human resources. "The feeling of offering a job to a great candidate and watching that employee develop in their role is very rewarding," she notes, "and I think that's what sparked my interest is bringing people into a company and making them feel welcome."

Learning expanded
While Stollak teaches an array of business courses that include Compensation, Collective Bargaining and Organizational Behavior, his for-credit HR course is particularly remarkable. As far as he is aware, it is one of only two in the country to be built around participation, by undergraduates, at a national professional conference.

Over the course of roughly five days, students have the opportunity to attend sessions on a variety of topics, interact with vendors in a huge exhibit hall and listen to keynote speakers who, in recent years, have included notables like Hillary Clinton, Tom Brokaw and Sir Richard Branson. The SHRM conference also has plenty of fun and casual interaction built into it, including musical performances by big-name artists ranging from Sheryl Crow to Kelly Clarkson. 

Following all the action, students travel back to campus and reflect on the experience. This type of experience helps both Stollak and his students remain well-informed within a field marked by constant change.

Stollak has also harnessed the power of social media to stay on top of the issues currently on the minds of human resource professionals. Following a nudge by his friend, HR professional and speaker Laurie Ruettimann, Stollak started a blog about four years ago. Ever since, True Faith HR (truefaithhr.blogspot.com) has become a vehicle for adding his own voice to the ongoing conversation. 

"The primary reason I write it," says Stollak, "and get involved with it, and interact with many of the HR professionals, is to better guide the students – to better prepare them for when they actually go out and start working so that they're going to be on the cutting edge of many of the topics and issues that their soon-to-be peers are talking about."

Due in part to the success of his blog, Stollak has earned the role of an official blogger for SHRM. He joins another prominent figure involved with the organization – the recently appointed executive director of the SHRM foundation, Mark Schmit '90.  

Schmit says his interest in HR matters was first kindled as a St. Norbert College student while taking courses in business and psychology. During an internship with Employers Health Insurance in De Pere, that initial interest ignited when an employee encouraged Schmit to go on to graduate school. There he studied industrial and organizational psychology, which looks at the intersection of business and psychology along with its application through HR.  Since that time, Schmit has been in or around the HR profession in multiple ways, including a teaching stint at the University of Florida Business School and 15 years of consulting work. And now his involvement with SHRM builds off those years of experience. 

"I joined SHRM as a way to give back to the profession, a profession that has been very good to me in my career," Schmit says. He began as the head of research and transitioned this past year to head of the foundation. "It's really fulfilling my mission in life as well," he adds.

St. Norbert's student branch of SHRM is impacting future leaders of the HR world in much the same way. With Stollak as adviser, the group has seen remarkable success in recent years. Stollak's students have been to the National HR Games Championship three times, including a victory at the National Championship in 2003. This year, St. Norbert's SHRM was named one of 10 Outstanding Student Chapters out of 450.  

Jenna Ray Hines '13 is one of the many students for whom SHRM has made a difference. "Getting involved in SHRM was another big step in piquing my curiosity and kind of pointing me in the direction that I wanted to go," she says. Hines first began by attending biweekly meetings. She then attended a handful of conferences and became involved in student competitions. During her senior year, she was elected president of the SNC chapter, at which time she attended Green Bay professional chapter meetings and invited HR professionals to come to St. Norbert and share their knowledge.

"I had a lot of interest and I really wanted to try to help our chapter grow," Hines says. "And we had quite a few younger members, so I wanted to make sure they had opportunities to network within the community."

While still a student, Hines interned with Schreiber Foods, had the chance to explore departments and possible job options within the company, and even had her current position as a talent acquisition coordinator lined up before graduation rolled around. 

"I really enjoy working with the candidates, working with our new hires, and just kind of getting to see their excitement for their roles and excitement for the company," she says. "I love being able to sell the image of Schreiber and to sell who we are and really express that to the community and to our new candidates."

Personal touch preserved
The St. Norbert human resources department offers internship experiences, too. They provide a first-hand look at the field right on campus. 

Mindy Leiterman (Human Resources) wants to make sure that students have an opportunity to express what they hope to gain from the internship right from the get-go. Learning objectives are established in collaboration with the campus career services office to help meet these expectations. "The main goal is to have them graduate and have a really good understanding of the HR field, and lots of experience, so that they can hopefully get a position right away when they graduate," Leiterman says.

She also notes that interns tend to bring a fresh approach to the table, so she encourages students to provide suggestions for improvement or to approach staff members if there's a desire to start a new project or initiative within the office.

Current HR intern Carley Milbrath '14 is in her second year with the department. She says, "They do a great job of getting me involved in everything and every side of HR, which is what I really like – along with more responsibility as time goes on." 

And what does the future look like for the field as incoming professionals like Milbrath join current HR practitioners in collectively looking ahead? 

Despite plenty of unknowns, Leiterman suspects that part of the evolution will continue to involve growth in technology usage, and she is excited to embrace that aspect and its many benefits. Even so, she believes that's all the more reason to hold onto that personal touch that has always been at the heart of her profession. 
In our photo: Finding their way on the HR path, left to right, are Jenna Ray Hines '13, Kaila Haen '14 and Carely Milbrath '14 with Matt Stollak (Business Administration).


Nov. 19, 2013