Uncovering The Law of the Land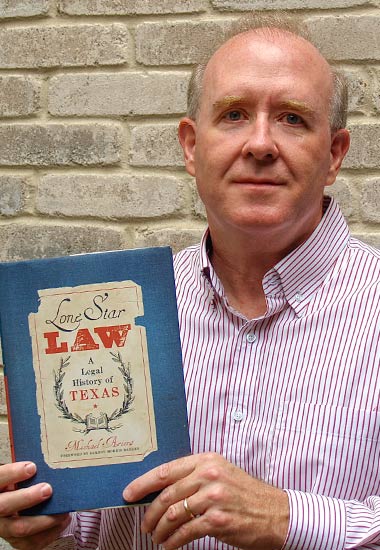 Beware the brief conversation with a book publisher.
Michael Ariens '79
 (left) had just such an encounter with former Texas Tech University Press editor Noel Parsons following a presentation to the Texas State Historical Association (TSHA) in 2004. The conversation sent Ariens on a seven-year quest to document the history of law in Texas.
"It happened that Noel was at my talk, and he came up afterward and asked if I had ever thought of writing a history of Texas law," Ariens recalls."I hadn't. It turned out to be even more interesting than I thought it would be."
His resulting work, "Lone Star Law: A Legal History of Texas," has garnered multiple positive reviews since its release in 2011. The book earned the TSHA's Coral Horton Tullis Memorial Prize for the best book on Texas history, and the Ray and Pat Browne Award for Best Reference/Primary Source Book from the Popular Culture Association/American Culture Association.
"It was an enjoyable project and process," says Ariens, a 26-year resident of Texas who serves as professor of law and director of faculty scholarship at St. Mary's University in San Antonio. "It was kind of fun and a nice thing to be able to say I did."
Ariens, who is married to
Renee (Ingrassia) Ariens '79
, is a prolific writer who has authored articles as long as 100,000 words, as well as law books and case books. "Lone Star Law" is his first long-form history book, and at 350 pages it offers an extensive look at more than a century of evolving legal standards in Texas.
"Texans are very proud of their unique history," Ariens says. "One of the most interesting aspects is, although there are a number of unique features of Texas law, there also are a number of places where Texas simply borrowed law from other states. You get a sense of how much people listened to what the general approach is across the country, even in times when communication was slower than it is today."
Ariens uncovered a great deal of information in the state archives in Austin, about 90 minutes north of his home in San Antonio. Organizing the book's chapters evolved over the course of the project as additional information came to light. The first chapter he wrote eventually became Chapter 6, while the final chapter completed became Chapter 3 in the final version.
The first two chapters are chronological, beginning with the origins of Texas and continuing through about 1920. Chapters 3-8 focus on specific subject areas such as the history of property rights, the legal profession, morals laws and civil rights. Each chapter includes subheadings that allow for more piecemeal reading.
"I constantly had to think about whether I said something earlier in the book or not," Ariens says of his writing journey. "When I referred to something, I had to check that I didn't lose the initial reference. I tried to make sure I still had a narrative that people could enjoy."
Despite the book's 220,000 words, Ariens was somewhat frustrated that the publisher asked him to edit about 60,000 words from his original manuscript. "It is the first book on the history of Texas law, and I hope I have set a relatively high standard for any future books that cover the same field," he says. "The publisher suggested there should be a second volume, so I'm now focusing on the history of the American legal profession and its ethical standards – and does it have any."
Ariens credits his parents,
Mike '53
and
Mimi Ariens
, for encouraging his interest in general history at a young age. That interest turned into a passion for legal history, which he now shares with his students. "I wanted to learn how different things worked, and I was lucky enough to have parents who would buy books and encourage my interest in learning things," Ariens says. "Understanding how things came to be is helpful in understanding why certain laws are the way they are today."
Nov. 19, 2013