All in for a Winning Start
Imagine, after the Mass of the Holy Spirit this past August, 580 new students marching down Baer Mall in wonder and with a sense of awe. Our faculty, in all of their graduation garb finery, line both sides of the mall, clapping and cheering them on. Then these same students enjoy a barbecue dinner, a great live band on the riverfront, and fireworks. That is the welcome our new students get at St. Norbert College. That is Convocation on our campus.

I have come to love the cyclical nature of the year in a college setting. There is a definite beginning and end to each school year. You can almost feel the entire campus exhaling, the day after Commencement. And it always feels so good to have the campus fill back up with students again in the fall. You can just feel a real infusion of renewed energy.

Each student's college journey has a distinct beginning at Convocation; a beginning that leads in four great years to their Commencement. I love Convocation. The excitement is palpable when our new students are arriving full of anticipation for what their future at St. Norbert College holds.

Around the start of this academic year, I read an article in the Green Bay Press-Gazette, written by Patti Zarling and called "Nine Things to Know About Back to School." Local principals and administrators shared tips for students: develop good sleep habits; organize for the new year; set goals; meet your teachers; be engaged; create a learning space; seek help early; choose after-school activities; have fun!

Great tips – and I would do well to try them myself! But I do have a recommendation of my own to add – or rather, it's one I try to follow, but it actually originated with Brett Favre.

My husband and I have been huge Packers fans all of our lives. Yes, even through the tough times in the 1970s and 1980s. Then, in 1992, Brett Favre came along. My husband loved Brett Favre, not only while he was a Packer, but even after the bad break-up when he left the Packers organization. In fact, we even had to go and see a game in Minneapolis when Favre was a (gasp) Minnesota Viking.

My husband especially loved Favre's toughness and his willingness to take risks. Most of all, Favre had fun. It was clear he thoroughly enjoyed the game of football and always gave it his all. And it showed. Every single game. That made him incredibly fun to watch. Who can forget him running down the length of the field with his helmet off when he connected on one of the first plays to Andre Rison at the Super Bowl in New Orleans; or the game in Oakland right after his father passed away? Favre left us with many great memories and some really good lessons.

Two of our daughters were in grade school when the Packers won Super Bowl XXXI in New Orleans in 1997. One of our daughters was invited to see the parade and spend some time at Lambeau Field during the welcome-home celebration. I suspect the only things she will remember about all of that is how long it took for the parade with the buses of Packers players to get to them, and how cold it was. Though our daughters were really happy to have a day off of school, they really couldn't understand "what the big deal was." We could.

So it should be no surprise that we have thoroughly enjoyed Favre's induction into the Packers Hall of Fame and his recent induction into the Pro Football Hall of Fame. Favre shared some great words of wisdom in his induction speech at the Pro Football Hall of Fame on Aug. 7, 2016, when he said: "So when I look back over my 20 years, I can honestly tell you – I can't tell you a lot, but I can honestly tell you that I hold no regrets. Did we win every game? No. Did I make every throw? No. Did I make mistakes? More than I care to count. But I can say this: There was never one time where I did not give it all I could."

What good advice for anyone, anytime in their life – but especially for new students at the start of their college experience. My hope for all of our students is to get to Commencement with no regrets, knowing that when they reflect on their career at St. Norbert, they will be able to say, with Brett Favre, "There was never one time where I did not give it all I could."

In fact, perhaps the next time I play a friendly game of golf against my husband, I will try just a little harder to beat him; to give it my all. You never know, maybe I can actually beat him for a third time in our lifetime. 


---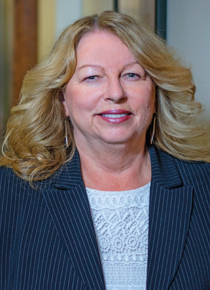 About Eileen Jahnke
Eileen Jahnke
joined the college in 2001. As vice president for business and finance, she over-sees the departments of finance, human resources, facilities and auxiliary services. In addition, she provides financial guidance for the administrative team and the board of trustees, and is responsible for the management of the college's budget and investment portfolio.
Nov. 14, 2016