Treasure/1917 Letterman Sweater
Every issue, we invite one member of the college community to share their delight in an object found on campus. Here, Don "Maz" Maslinski '63, director of athletics fundraising and assistant offensive line coach to the Green Knights, speaks to a 1917 letterman sweater belonging to Rev. Gordon "Legs" Shaney, class of 1917. The sweater serves as a reminder of good times and of the college's longtime commitment to athletics.
This letter sweater belonged to the Rev. Gordon "Legs" Shaney, Class of 1917, two-letter man and center for the football team. It reminds me of good times gone away. At small private colleges today, you're probably not seeing a lot of letter sweaters because of the prohibitive cost. But seeing an object like this one rekindles and reaffirms how long ago this place made a commitment to athletics. Why did they do it? It wasn't for recognition. It wasn't for profit. They did it for the right reasons. Why we have athletics today is really the same reason they had it then. If you look at the whole liberal arts tradition, athletics just fits in. It adds the physical element to that mission of developing the whole person.


---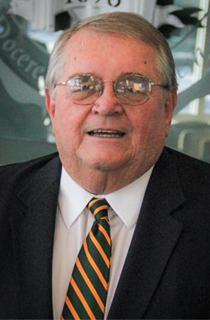 About Our Contributor
Don "Maz" Maslinski '63, athletics director 1998-2004, is currently director of athletics fundraising as well as serving as assistant offensive line coach to the Green Knights. Entering his 10th year on the football staff, Coach Maslinski will again work with the tight ends this season.
Maslinski is something of a fixture around athletics in northeast Wisconsin. Before joining St. Norbert College, he was longtime assistant football coach at Ashwaubenon High School in Green Bay, the school he served for three decades as teacher, athletics director and principal. 

Nov. 14, 2016