What a Decade! Alumni Tee Up Memories of Sports in the 1960s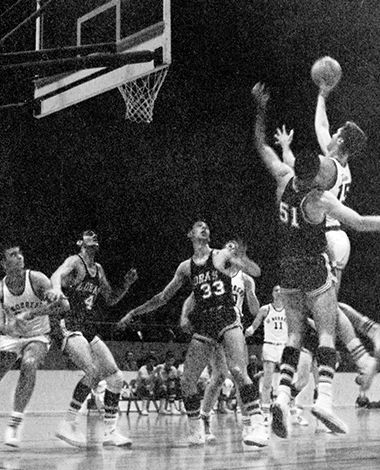 Athletes from the 1960s gathered last summer for a reunion and a celebration of bygone days on the fields and courts of St. Norbert College. We invited attendees to share their memories of their coaches, teammates and experiences.
We hope the stories that follow get the ball rolling and jog your own memories. We encourage you to contribute your own thoughts, anecdotes or reflections related to St. Norbert College sports teams in the 1960s – or indeed any era! Send them to magazine@snc.edu, and we will add a selection to this page.
Basketball
Dave Gagermeier '65 reminisces about Romie Kosnar, who coached basketball from 1958 to 1981: "Romie was such a nice guy as a coach. He was a great player. He would scrimmage with us."
John Zeihen '66 says, "Romie knew his basketball. He was here a long time and ran a good program. I remember when I showed up here, I couldn't do anything right. I was away in a different environment trying to get used to college life. We scrimmaged Abbot Pennings and I couldn't even do anything against the high school team. I came back from the holiday vacation and by the middle of my freshman year, I was playing pretty well. It was a learning experience." 
"Coach Romie Kosnar's attitude could be best described as 'cautiously optimistic.' He has four letterman back from last year's team, and has what he calls 'the best group of new players since I've been here.'" – An excerpt from a 1961 St. Norbert College Alumni Quarterly.
Golf
"Basketball coach Romie Kosnar was also our golf coach at the time. A real gentleman and great guy," remembers Greg Befera '71. "I went on to a career in professional golf after St. Norbert."
Soccer
Bill Burns '71: "My No. 1 soccer memory is of my teammates. The work we put in together. Our experiences with coaching that we sometimes found illogical. (We had four coaches in four years so this added to the confusion.) We also had significant achievement. In our junior year, we beat Marquette at Marquette for their homecoming. We also had a natural rival: Stevens Point. Presumably for economic reasons we played Point four times a year. Most years we were 2-and-2, and every game was close."
Rifle Marksmanship
"Although we can only go along with six shooters in a match, we like to keep ten or twelve members on our roster. Every once and a while we'll use one of these 'reserves' in shoulder-to-shoulder competition to give him the experience. In this way, we can build a team for the future." – Sgt. McClung, in an article appearing in a 1961 St. Norbert College Alumni Quarterly.
"Carl [Guenther '62] is definitely our number one man, but some of the other fellows were pressing him at times. Bill Servais has outshot him on a couple of occasions." – McClung, in an article appearing in a 1961 St. Norbert College Alumni Quarterly.
Track
"The '62 Knight track team shattered six school records, some dating back to 1949, as the team compiled an over-all 9-5 mark during the season." – An excerpt from a 1962 St. Norbert College Alumni Quarterly.
Football
Wayne Lubner '71 recalls the fine dining on road trips for football games: "They would pack sandwiches in these big coolers. We would get out at some wayside and eat a cold ham sandwich."
Lubner's most memorable road trip was against Southwest Louisiana during his junior season: "That was the first time most of us flew. We lost 48-37. Southwest would play a yard off the ball, so you had to go out and get them. We pounded the ball with [Larry] Krause ['70]. We would have like a 25-play drive. They would throw two passes and we would be back out there again. It was a lot of fun."
"We had a lot of small town guys. Look around this room – Random Lake, Greenwood, Denmark, Laona, Lena, East De Pere, West De Pere, Bloomer, Black River Falls – all small towns. Good values, good people. We had a lot of guys who were overlooked by [the University of] Wisconsin. Howie [Kolstad] actually wanted to scrimmage them [the Badgers]."
Dave Simon '66 recalls cutting his eye in the first quarter of the game at Augustana during his junior year. "We got back and it was halftime. I played the second half with a broken nose and a stitched-up eye. We had to ride the bus all day Sunday. Monday morning, I couldn't even get the eye open. I went over to see [coach] Howie. They put me in the hospital for a few days. I got out, came back home and played against Northern Michigan the next Saturday." 

Ed Sturzl '71 remembers the tough demeanor of Howard "Chick" Kolstad, who coached football from 1960 to 1978. "Ronnie [Blaha '70] was playing middle linebacker and he filled the wrong hole. Howie asked him, 'What are you doing?' Ronnie said, 'Coach, I was thinking.' Howie cut him off and said, 'Don't think, Blaha.' He used that a number of times with players: 'Don't think.'"
Wayne Lubner '71, says, "Howie had that presence about him. I would see him in the liquor store years after I graduated. I could be 40 years old and see him in the liquor store and I couldn't buy liquor in his presence."
Larry Krause '70 shares a memory of Kolstad: "We were practicing at Minahan in November. Howie wore one of those old Army coats. He would say, 'Take my coat if you're cold.' I took it one day – not a good thing."
Sturzl says he and a lot of players admired Kolstad: "Even the guys who struggled to get along with him, respected him," says Sturzl. "You knew that he was trying to do what was right for you."
"I want the 11 toughest players in school on my first team. We'll shift positions until we find a spot for each of those 11." – Howie Kostad, in an article appearing in a 1960 St. Norbert College Alumni Quarterly.
Fran Schmitz '72 says, "While I have many stories, one I would like to add happened on a football road trip to play Hillsdale College in Michigan. On the way to Hillsdale Coach Kolstad had the bus driver stop at none other than the University of Notre Dame to see if we could practice there before finishing our trip to Hillsdale. While we were confident young men proud to play for SNC, it seemed a bit odd that a small Division III school would be practicing at Notre Dame and a few of us were a bit embarrassed. It was a game weekend and while some of us were hanging out near our bus a few fans wished us luck, having no idea of course who we were. I guess we at least looked the part. Apparently the athletic director had no place for us to practice and we stopped instead at some park on the way to Hillsdale."
Greg Befera '71 shares: "I only played football my freshman year but remember many of the guys on that '67 team. Lubby, Sturz, Denoyer, Christiansen, Picker, Trini, Schoener (Tom Schoen), fellow QBs Steve Wilmot & Smokey Joe Kretz, and of course, "Thunder and Lightning" (Maier and Krause). Jim and Larry were great runners. I would just hand them the ball and get out of the way. They were also two of the funniest guys I had met. They would imitate Howie using his pleading voice 'You gotta have a little heart!'

"My hair was too long for Coach at the time and he used to say 'Gees, Befera, get a haircut, you look like a violin player.' I had never lifted weights until I got to St. Norbert. The first day in the weight room Howie took one look at me and compared my chest to a 'couple of fried eggs.' Needless to say I started lifting.

"I got to start the Spring game as Steve and Joe were playing baseball. I couldn't believe that Howie actually complimented me after throwing the winning TD pass late in the game. He wasn't big on praise. I was on cloud nine."

Oct. 31, 2018