Treasure/The Rilke Portfolio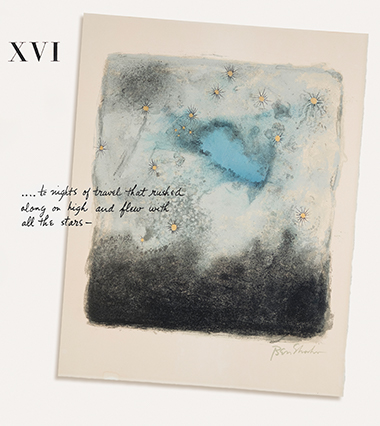 Every issue, we invite one member of the college community to share their delight in an object found on campus. Here Brandon Bauer, associate professor of art, speaks to Print XVI in the Rilke Portfolio of Ben Shahn – one of many in the series that have inspired him. The Rilke Portfolio, Shahn's response to the work of German poet Rainer Maria Rilke (1875-1926), is part of the college's art collection.
It's wonderful that we have this portfolio by Ben Shahn. What's really nice about lithography as a process is that you can have both a painterly and a graphic sensibility in the work. That blue in the center of Print XVI becomes a real focal point, and then he has those little points of gold for the stars with these delicate lines that radiate out. … It demonstrates his wonderful abstract sensibility. Even this dark at the bottom is almost like an emotional weight that you see expressed as human figures in other pieces in the portfolio.

It would be wonderful to see the complete series displayed in an exhibition, to be able to walk through and experience the poem and his work both spatially and sequentially. Shahn defines the sort of beauty we see here and at other points in the portfolio as a source of strength through hard times. If it isn't a struggle for beauty, what are we struggling for?


Oct. 31, 2018