Wellness Initiative for a Healthy Campus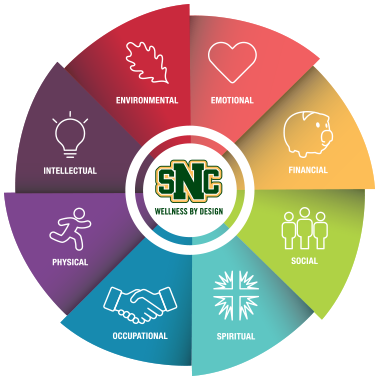 As mental health issues are finally losing their remaining stigma, changes in attitude are especially noticeable among today's college students. A study by the Center for Collegiate Mental Health revealed a 30 percent jump in the number of college students across the country seeking counseling services over a seven-year period, from the 2009-10 school year through 2014-15. And that's despite the fact that college enrollment during this time increased just 5.6 percent.
That's a sign that today's students are much more aware of emotional wellness than previous generations, say campus professionals. The college's approach to investments in wellness was recently the focus of a cover-lined article in Healthy Campus, a publication of the American College Health Association.

The stigma around mental health has decreased over the years, and St. Norbert, like other colleges, is also seeing a higher demand for on-campus counseling and related services. And St. Norbert is well-positioned to help.

The college has always viewed the health and wellness of its students as critical to their success and core to its own mission. Over the years, St. Norbert has updated its programs and facilities to offer students healthier food, better workout facilities, financial-wellness services and spiritual-wellness programs, among other enhancements.

This fall, St. Norbert unveiled its new Wellness by Design initiative. The initiative, several years in the making, is based on the eight dimensions of wellness identified by the United States Substance Abuse & Mental Health Services Administration (SAMHSA): emotional, environmental, financial, intellectual, occupational, physical, social and spiritual. While the college devotes resources to all of these wellness dimensions, it will focus on the emotional, environmental and physical dimensions during the next three years, responding to a survey of SNC students that showed those were the most critical.

Two enhancements already in place: The campus will become 100 percent tobacco-free from Jan. 2, 2019, and the St. Norbert community can now access Therapy Assisted Online (TAO) Self-Help in addition to the full range of on-campus counseling and psychological services. TAO offers educational materials and interactive modules to help users learn strategies and skills that foster wellness. It assists with a variety of health concerns, such as stress, anxiety, anger management, communication, and evaluating alcohol and drug use. The site is available 24/7 to students, faculty and staff.

"We're trying to make the healthy choice the easy choice," says Chrystal Woller (Health & Wellness). "We want to prepare students to adopt healthy lifestyles as a foundation for optimal health after graduation." 
Sixty-one percent of college students nationally head to their campus counseling center due to anxiety, according to the American Psychological Association. Other reasons for their visits include depression (49 percent), stress (45 percent), family concerns (31 percent), academic performance (28 percent) and relationship issues (27 percent).

Oct. 31, 2018