Treasure/Engine-Order Telegraph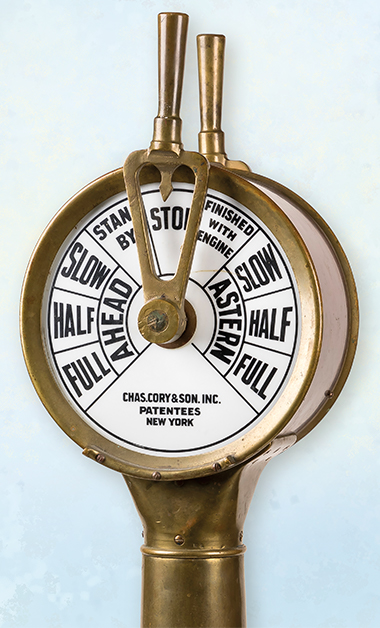 Every issue, we invite one member of the college community to share their delight in an object found on campus. Here, Phil Oswald, vice president of college advancement 2008-18, speaks to the engine-order telegraph that served as his personal mascot during Campaign St. Norbert: Full Ahead. It remains to him a totem standing for the ongoing generosity of the college's many friends.
This was all my vision, to be able to have a ship's telegraph as sort of the mascot for Campaign St. Norbert: Full Ahead. I'd had these old World War II Navy movies rolling round in my head, where the thing goes "Clang, clang" and they go full ahead. It was always about moving forward: "Boom, let's go."
It never really got to that spot but all the same I would be scouting the internet … This one's too small, this one's too expensive … And then I found it. It arrived one day, shipped in a crate and everybody thought, "What the heck did Phil order, because it's huge!" This one is authentic, it's about 60 lbs.

Now, it's a reminder of a really, really successful campaign. I have an affection for it. When I look at it, I think of all the donors who made that campaign happen. This college has great friends! The beauty around here is so outstanding. Guidance, blessings, open-handedness! To share in that kind of sacrament is inspiring, certainly. It's empowering. 


June 30, 2018