Treasure/Father De Peaux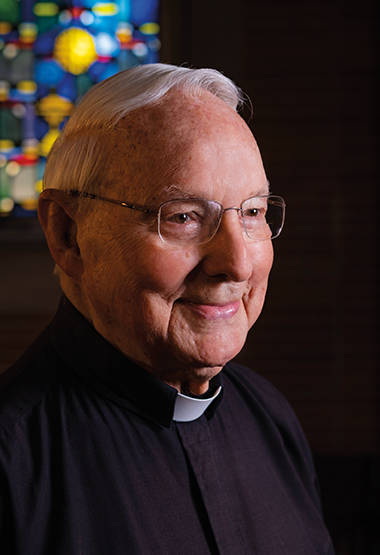 Every issue, we invite one member of the college community to share their delight in a treasure found on campus. Here Todd Danen '77 (College Advancement) speaks to the Rev. Rowland De Peaux '48 (left), a Norbertine treasure in himself and the first person to have been so designated in this long-running series of features focussing on the things the campus cherishes.

Father De Peaux came to St. Norbert following his high school graduation in June 1944. It's basically been his home ever since. I never had a class with him when I was a student but even then he was a striking figure on campus. Always very debonair. He liked to have fun, but he was always very proper. (That's the European in him.) He's credited with sending the first student abroad. He's sure meant a lot to the Sigma Nu Chi/Sigma Tau Gamma fraternity. He's married many of them, been present at family funerals, baptized their children …

We met and became close friends when I returned to the campus in 2008, through his role as chaplain to the alumni board. He can work a room like a good politician. He just always seems to know everyone. He brings such storytelling to the group. He doesn't appreciate it when I exaggerate! Everything has to be accurate.

It's just been a treat. He's become very close to our family. There's no question that he's a treasure here at St. Norbert, and we treasure him.
---

Todd Danen '77 (College Advancement) met the Rev. Rowland De Peaux '48 when he returned to campus 11 years ago to direct alumni and parent relations.

Oct. 31, 2019