Ahead of the Game/The Banner Years
In a corridor in the Mulva Family Fitness & Sports Center filled with natural light they assert their grace and power: 23 current student-athletes, photographed, each representing their sports in larger-than-life-size images. On permanent display, the banner-style murals – one for each varsity sport – speak to the commitment of the campus to the student and of the athlete to the challenge of their chosen sport.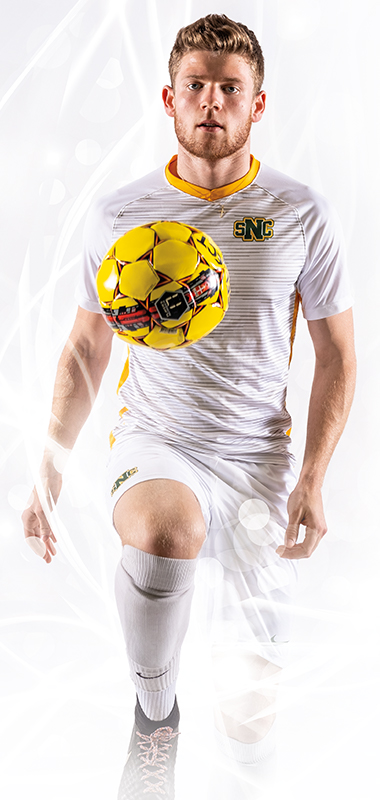 Since 1916, when St. Norbert first offered intercollegiate sports, much has been celebrated – dozens of championships, academic excellence in classrooms and a calling to personal growth.

"This hallway is used by our student-athletes, so we wanted to celebrate them and represent all the sports," says Nick Patton '03, senior graphic designer at SNC, who created the banners using photography by Corey Wilson.

St. Norbert competes in the National Collegiate Athletic Association's Division III, where athletics are intentionally part of a balanced experience for students. "Participants are integrated on campus and treated like all other members of the student body, keeping them focused on being a student first," states the NCAA.

It's a philosophy that plays beautifully into how SNC president Brian Bruess '90 has come to view athletics in the larger scheme, and in his role as a leader in higher education.

Bruess is a former Green Knight student-athlete himself, with four years on the basketball team (1986-90). He says: "What we're really doing in Division III athletics is that we have three goals for our scholar-athletes. One is that they exceed expectations academically. Two, that the coaches and programs build character and sense of self. And three, that our scholar-athletes, both individually and as a team and as a whole program, have a championship experience."

Those championship experiences have happened with regularity at St. Norbert, according to Dan Lukes, assistant athletics director for athletics communications. "We have won 123 conference championships since joining the Midwest Conference in 1983," he says, "and we have won 16 league titles since joining the NCHA (Northern Collegiate Hockey Association) in 1994. Our student-athletes have been named Academic All-America 76 times. [Since 1983] St. Norbert has earned the Midwest Conference's Ralph Shively All-Sports Championships a total of 21 times – 16 women's and five men's."

Relatively few SNC student-athletes – with exceptions from the men's hockey program – have advanced to the professional level. But the mission of the SNC student-athletes depicted in the MFFSC corridor is to hone personal and professional skills and to develop as a human being.

"All those skills and abilities of interpersonal skills, conflict resolution and team development and working toward a goal – all those outcomes that come from athletics are really important," Bruess says. "Just having a certain amount of structure in the life of a college student is a prerequisite for academic achievement."

Tim Bald, Green Knight athletics director, is succinct: "That's the philosophy of Division III: It gets you in and out in four years and gives the best athletic and academic experience that they can have."

Lessons for a bright future
As our student-athletes do battle, they recognize that they're also preparing for the next great contest in the game of life. Coaches are educators and mentors, too. Jonnie Winkler '21 (Socccer), pictured, says, "Coach Rhodes is intense on the field because he has the winning mentality that drives a great program, but at the end of the day he's a friend. He loves his team and the people that make the St. Norbert soccer program."

There are certain lessons from playing a team sport that are hard to learn elsewhere, says Zach Krysiak '20 (ACHA Club Hockey). He says, "A 'hates-to-lose' mindset, having teammates and coaches push you past your limit, and developing teamwork are just some aspects of playing a team sport that you can't get anywhere else." Those teams may be bigger than they seem. Clare Santas '22 (Swimming & Diving) notes activities that draw different teams together, like the annual Blessing of the Athletes, all-sports conditioning in the off-season and volunteering with Special Olympics. "Knowing that I'm a part of not only a team that is much bigger than me, but an entire college of athletes, is exciting," she says.

"We all have the same goal of doing good for others and being the best version of ourselves possible." Anna Tristiani '21 (Women's Soccer) adds: "Many of our alumni volunteer at practices, become assistant coaches, and participate in our alumni game. Although someone may have graduated: once part of the team, always part of the team." Leaving the college doesn't mean leaving the glory days behind.

It takes a team to decorate the halls of fame
Patton and Wilson collaborated to create the 23 photo banners that represent St. Norbert's current varsity athletics programs, using images of athletes from each sport.

"We were given a blank slate with this project," Patton says. "On several occasions, Tim Bald and I would walk around the building talking about the spaces, how they were used and what we could do to enhance the atmosphere."

Wilson, a former photojournalist with experience in sports photography, captured 50 to 100 images of each SNC student-athlete for the banner project.

"I wanted to create crisp, clean, high-impact images that would really jump off the walls," Wilson says. "The key was to have each athlete feel comfortable and avoid awkward poses. ... Although I had each athlete alter their poses to the left, right and facing the camera, I always asked them to maintain eye contact with me. I knew this would connect with the viewer."

Patton credited a team of colleagues and outside vendors for their feedback and expertise in helping create a memorable project.

"This project was pure fun because we had a team of experts to solve all the challenges," he says. "All these people and more make something like this come together."
---
From the pages of history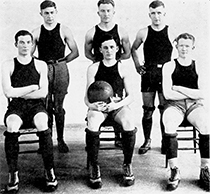 Since 1916, when SNC offered its first intercollegiate sport – basketball – varsity athletes and their fans have shared in the trials, triumphs and sheer joy of the team experiance. St. Norbert's Academic All-Americans and Hall of Famers are all honored in the Mulva Family Fitness & Sports Center.

The student-athlete experience of 2019 is played out across 23 intercollegiate sports – more than at any other time in the college's history. Almost 30 percent of the student population of roughly 2,100 are student-athletes.

Oct. 31, 2019