Cassandra Voss Center to Host White Privilege Symposium on Campus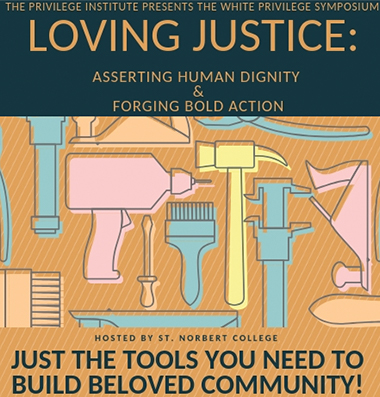 The Cassandra Voss Center is bringing a brand new conference to St. Norbert College April 12-13 as a way to help the wider community address privilege and inequality at the local level.
The two-day symposium, Loving Justice: Asserting Human Dignity & Forging Bold Action, is a condensed version of the White Privilege Conference, the national event that facilitates conversation about privilege in communities around the United States each year.
"The Cassandra Voss Center has always been an advocate for innovation and change," says Karlyn Crowley (English, CVC). "The [conference] has never been brought to Wisconsin before, so the center took this as an opportunity to bring a new and impactful event to the area."
Becoming agents of change
Issues regarding privilege and inequality aren't limited to larger cities or metropolitan areas. They're a focus of concern on the college's doorstep. According to a 2016 Life Study, there are considerable gaps in certain areas of living in Brown County, including housing (69 percent white home ownership versus 7 percent African-American home ownership) and health care (95 percent white insured versus 70 percent Hispanic/Latino insured), among others. The Cassandra Voss Center invites educators, students, business leaders and individuals from all parts of the community to attend one or both days of the symposium to learn how to positively address these kinds of issues in their own neighborhoods.
In keeping with the college's commitment to radical hospitality, Friday's programming is free and open to the public. Saturday's keynote, workshops and action-planning sessions are available via a registration fee.
"The symposium is not about assigning blame or attacking those with privilege," says Crowley. "It is intended to address privilege and help us develop the tools to become agents of change."
Crowley also emphasizes that the goal is for attendees to walk away with the knowledge and skills they need so they can confidently and positively influence places where they have a personal connection. Whether it's a teacher creating a more inclusive classroom, business owners developing a diverse team in the workplace, or a single person taking a moment to observe the history of inequality in their city, it's all one step closer to embracing differences and seeing Martin Luther King Jr.'s vision of beloved community fully realised, she says.
Partnering for transforming conversations
For 20 years, the Privilege Institute has taken its White Privilege Conference to cities like Philadelphia, Kansas City and Seattle, and at institutions like the University of Denver, Drake University and the University of Massachusetts-Amherst. The institute was founded by Eddie Moore Jr., one of America's most respected educators and a motivational speaker on the topic of transforming conversation about diversity and privilege into action.
"Two of the main aspects of a liberal arts education are lifelong learning and an appreciation of different perspectives," says Crowley. "Vigorous debate and bold education are what make democracy strong. St. Norbert plays a central role in shaping our city and its citizens – we want to make the places where we live better, more just and more joyful."
Because of the college's Catholic and liberal arts traditions, and the fact that St. Norbert was a peacemaker in his own time, Crowley further explains that the center's focus on social justice and creating dialogue across differences isn't simply a metaphor, it's real. By championing these discussions on campus and throughout northeast Wisconsin, the CVC is carrying out its own mission and staying true to the traditions of the college.
"St. Norbert is proud to be leading [for] the future. We want our city to imagine what it can be with jobs and dignity and innovation we all want to be a part of," says Crowley.
While the CVC and St. Norbert are leading the charge, they've partnered with other organizations to bring this event to campus; in the region, Lawrence University, Northeast Wisconsin Technical College, Schreiber and Associated Bank; and nationally with the Washington D.C.-based Human Rights Campaign Foundation.
"This is about being fully human, how we see and recognize one another with dignity and authenticity. We know in all sectors that advancing equity and inclusion is urgent," says Crowley. "We have given our lives here, and people and jobs and futures hang in the balance, so we want to build something that works."
When asked why it is so important for individuals in this community to experience the White Privilege Symposium for themselves, Crowley's answer was simple: "We're making history so we can change and shape what matters to us. It will be a lost opportunity to not attend."
Learn more and register for the White Privilege Conference at snc.edu/cvc/programs.


March 8, 2019