$2.6 Million History of Giving Stems From One Kind Gesture
St. Norbert College continues to benefit from the legacy of financial giving by the late Harold and Arleen Vanden Heuvel. The Vanden Heuvels named the college as a partial beneficiary of their trust: SNC will receive more than $2 million as a result of their generosity.
That gift brings the couple's total donations to more than $2.6 million during and after their lifetimes.
While the magnitude of their gifts is impressive, the fact that no one in the Vanden Heuvels' immediate family attended St. Norbert is what makes their generosity stand out. In fact, neither Harold nor Arleen (pictured below) were able to graduate high school due to commitments on their respective family farms when they were teenagers. Harold died in 2013 and Arleen in 2018.

The Vanden Heuvels' connection to the college goes back to Harold's friendship with Abbot Bernard Pennings. Pennings once offered to defer Harold's tuition costs if he wished to continue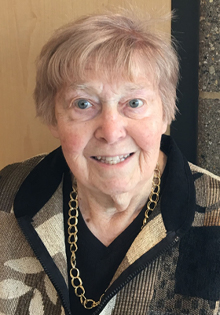 his education at what was then St. Norbert High School. Harold was unable to take up the offer, but he never forgot the abbot's gesture and kept a special place in his heart for the college.

"Harold and Arleen understood the value of higher education and what this institution means to the community," comments Lisa Vanden Avond '82 (Advancement). "Arleen was a member of the college's Anselm Keefe Legacy Society, and we're very grateful for the Vanden Heuvels' generosity."

Harold and Arleen married relatively late in life. Harold was a dairy farmer, while Arleen grew up on a farm and worked for 40 years at Fort Howard Paper. They did not have children of their own, but many nieces and nephews also received bequests from their estate. St. Norbert is one of about a dozen local charities to receive either a set dollar amount or a percentage of their estate.

This partial list of the initiatives benefiting from the Vanden Heuvels' giving history to SNC offers some sense of the reach and impact of their philanthropy:
Norman L. Roffers Endowed Scholarship (named for Arleen's brother) – supports art or music majors from Wisconsin
Harold & Arleen Vanden Heuvel Our Lady of Lourdes Scholarship – supports students who are active members of Our Lady of Lourdes Parish
Harold & Arleen Vanden Heuvel Northeast Wisconsin Endowed Scholarship – supports students with exceptional academic ability and promise
Harold & Arleen Vanden Heuvel Student Development Endowment Fund – enhances personal growth opportunities for student development outside the classroom
Harold & Arleen Vanden Heuvel Endowed Scholarship – supports students with disabilities
Van Den Heuvel Campus Center (named for a different family of similar name)
Building, unrestricted
Coach Tilley Women's Basketball Legacy Endowment   
St. Norbert Fund
Mulva Family Fitness & Sports Center (named first-floor lounge)     
Cofrin Hall
Camp II Rankin Building Fund 

Jan. 28, 2021